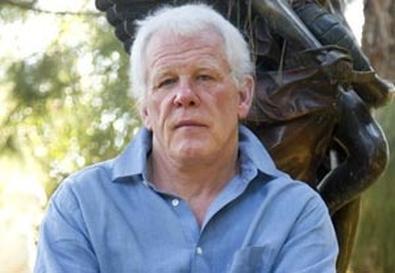 At 70, Nick Nolte cuts an impressive figure. Though the actor is standing in a hotel room ensconced in a shapeless ensemble of oversize shirt and pants and smoking an e-cigarette, he manages to still look manly. He's here to talk about his latest film, "Warrior," in which he is earning raves as Paddy Conlon, the alcoholic father of two sons who end up facing each other in a winner-takes-all Mixed Martial Arts championship. The elder son, Brendan, played by Joel Edgerton, is a teacher and family man who has distanced himself from Paddy after a recent unspecified incident. The younger son, Tommy, portrayed by Tom Hardy, resents his father even as he asks Paddy to help him train.
The role was written with Nolte in mind by director Gavin O'Connor, who lives in the same Malibu neighborhood as the actor. So it's probably not a coincidence that Paddy and Nolte share struggles. A lifelong battle with alcohol resulted in Nolte's arrest in 2002 for driving under the influence, producing perhaps the most famous mug shot in history. Nolte talks openly about his troubles—in fact, he talks openly about everything. With a career spanning five decades on stage and screen and including such seminal projects as "Rich Man, Poor Man" and his Oscar-nominated role in "The Prince of Tides," Nolte is full of stories. For a half hour, he holds court on such topics as Marlon Brando being miscast in "A Streetcar Named Desire," Nolte's years in regional theater, and his latest—and perhaps greatest—role.
Back Stage: Paddy Conlon is a fantastic role; did you know when you read the script you had something special?Nick Nolte:
I knew it was excellent material right away. And I was excited to do it because I knew Gavin well. I was supposed to do a film with him before, "Pride and Glory," and I walked on that.
Back Stage: I thought you left due to needing knee surgery.Nolte:
No. I walked two weeks before we started.
Back Stage: And he still wanted to work with you?Nolte:
Yeah. There were very specific reasons I left. He has the message on his phone explaining why I can't go on. And I told him I had to get my knee transplant done, which then obligated me to do that. So I did. I had some difficulties, but not with Gavin. There was some communication amongst the actors that wasn't quite right. And at my age, I won't do things chaotically anymore—I walk away. I used to sit through them, but it's just not worth it. Life is too short.
Back Stage: At what point did he tell you he was writing a role for you? Nolte:
When he was writing it, there was communication, but nothing specifically about the character. Then came the day he brought the script over, and I read it, and it was just brilliant. His writing is excellent. I wasn't thrilled with the MMA fighting. I wasn't a fan, I didn't watch too much of it, and it looked awful brutal to me. I called him and said, "I love this, it's really great, but…do we have to go down the MMA road?" He said, "I know it's ugly and violent, but you've really got to find out what it's about. Go to some of the matches, meet some fighters, meet their parents, meet their girlfriends, see their life. And you'll see it's not about violence." And I did. And it isn't about violence. I watch it now.
Back Stage: The character of Paddy has some struggles that reflect your own life. Did that make you hesitate to take the part?Nolte:
No, I embraced it. Because I have a drunk driving record and I have not been silent about my own addictions, it was a perfect vehicle. I understand addictions; I understand how destructive they are and how difficult they are to break. I was 48 before I got sober. I just didn't know you didn't drink. Brian James, an actor, said to me one day, "You know, if you ever feel like you don't want to, there's a little meeting up here at the school; you can come up." About two weeks later I was through a bottle or two and knew I should go. I walked into that meeting, and there were about 10 people who I had wondered where the hell they had gone to. I sat down next to a wet drunk, somebody who's been in the hospital hallucinating. This guy still had the willies; he was moaning and shouting. It was a quite frightening experience, when you catch on to yourself and you really know you got a problem. Because you know it's got to change, but you don't have the slightest idea how to do it. So I got through that meeting, and at the very end I was trying to get to the door and get the hell out of there, and this wet drunk grabbed me and said, "If you don't believe it right now, just pretend as if you do, and you'll be all right."
Back Stage: Sort of like with acting.Nolte:
Exactly. And I think that moment helped me more than anything else. I don't even know who he was.
Back Stage: The audience has a lot of sympathy for Paddy, but we understand he's done some bad things in his past. Did you discuss that history with Gavin?Nolte:
Yeah, we pretty much created the backstory. Living with an alcoholic just cannot be a happy experience, because you neglect everybody and everything. Brendan won't let Paddy come into his house, and I can tell you specifically the backstory I came up with there. Three Christmases ago, Paddy got a load on and went over there for Christmas and ran the car right through the living room, almost killing the kids. That's why he won't let me back in. I heard that story from an old guy I used to see at a bar.
Back Stage: Was there anything you took away from playing Paddy?Nolte:
Asking for forgiveness is just one of the most painful kind of experiences. It was very cathartic. If you know you've done something wrong and fess up to it, it's always a relief. To carry around that weight of knowing you've done something wrong; it's just emotional weight you can't get past.
Outtakes

Will next be seen opposite Dustin Hoffman on the HBO series "Luck"
Other films include "Tropic Thunder," "North Dallas Forty," "Cape Fear," and "Affliction," for which he received his second Oscar nomination
Studied at the Pasadena Playhouse and the Stella Adler Academy in Los Angeles
---
Playing the combative sons of Nick Nolte's character are rising stars Tom Hardy and Joel Edgerton, who revealed to Back Stage how they landed their roles.Tom Hardy:
I had a lengthy process of begging. I knew if I auditioned for it, there was no way I would get it. I'd talked to Gavin on the phone about process and how I could get there and transform myself. A lot of my audition process was me saying, "Trust me! Just trust me!" And Gavin really did trust me. He invited me out to come talk to him, and I flew out and stayed with him for a week.

Joel Edgerton:
I showed up at Gavin's house as well, but I didn't stay. I was a little different from Tom because I had a history of martial arts; I had a black belt as a kid, and I've played a lot of sports. Then he called me in India to offer me the part. They wanted to send some people to me to put me through the Krav Maga class, too, and I also kept telling him to trust me. Then I snuck away and tried to lift as many weights as possible.