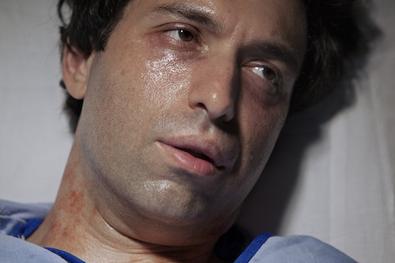 Actors are no strangers to taking on unconventional work between acting gigs. That's why the short film "Actor Seeks Role" is such an accurate, if not partial, depiction of the thespian plight.
Starring Alex Karpovsky ("Girls") and Dylan Baker ("The Good Wife"), this Michael Tyburski-directed film follows a dedicated New York City actor making it work between gigs by playing a sick patient for medical students to "diagnose."
Written and co-produced by Ben Nabors—whose wife, a former medical student at Cornell, inspired the film—"Actor Seeks Role" presents the dark comedy in familiar disappointments actors routinely face, from your agent's voicemail saying the producer didn't think you were right for the part, to your acting teacher giving up on you.
Backstage sat down with Nabors, named alongside Tyburksi as one of Filmmaker Magazine's 2013 "25 New Faces of Independent Film," to chat about the filmmaking process, why he felt he had to approach this subject so delicately, and the surprising overlaps between the medical and acting worlds.
On the genesis of "Actor Seeks Role."
"[My wife] was a medical student who went to Cornell," explains Nabors, "and she would tell me stories about standardized patients, and in New York, where there's a thriving acting community, those standardized patients are often really talented actors who are picking up money on the side. That got me thinking on how that could go even further with an actor who's really exceptional."
The Meisner-trained Paul (Karpovksy) attends classes, listens to podcasts, reads books, and rehearses his role or symptoms in the mirror for hours on end.
"I was imagining the space of medical school where you might have an instructor servicing the role of director," Nabors says. "And a medical theater or a room with two-way mirrors and closed circuit televisions kind of being like a little audience. Our lead is looking for an audience. He wants to perform and he looks for it wherever he can."
On the film's biggest challenge.
Finding a location to shoot the short was the most "nerve-racking" part of the process, according to Nabors. Once he had the structure of the film down, writing it was a breeze; he'd been "kicking the idea around" in his head for a long time. But after searching, the filmmakers had the luck and luxury of shooting in a real hospital: the Morchand Center for Clinical Competence at Mount Sinai.
"There was a room that was referred to as the Green Room where all the actors get ready before they go into the observation or the examination room for the students," he explains. "There were headshots of all the actors who performed there put up on the wall. There was even a prop closet."
On casting.
Being put in Filmmaker Magazine's "25" list opened up a new network for the Brooklyn filmmakers; Karpovsky was a "New Face" in 2006, which created an easy path to get the actor to read their script.
"Michael was really interested in working with him and through the editor at Filmmaker Magazine, we got an introduction," the producer explains. "At the time, we all lived in Brooklyn [Nabors now lives in Boston]. Alex and Michael both lived in Greenpoint. They met up and talked, and Alex really liked the script and agreed to be in it."
Baker and the film's other supporters came by way of the duo's go-to casting director Chrissy Fiorilli Ellington, who's previously worked for Liz Lewis Casting as well as CollegeHumor Originals.
On capturing a dark yet comedic tone.
"Michael is so good at that, his tone is so good," says Nabors about his partner. "It is funny and it's meant to be. You can't have a line like, 'Jazz it up with a lung hemorrhage,' and expect for there not to be humor there."
The line Nabors is referring to one Dr. Friedman (Baker) says to Paul about spicing up next week's autoimmune disease for another batch of students set to examine the "patient" and determine his ailment.
"I think there are a lot of similarities between medicine and performance," Nabors says. "The medical school process is that for the benefit of medicine, these people come in and show themselves, bare themselves for these young doctors so they can learn, and the acting process is a lot like that.
"You put people up on stage or in front of a camera and their job is to be emotionally vulnerable for us, for the benefit of the audience. Both [professions] broker in emotion. Where I think doctors try to restrain it, actors try to enhance it."
"
Inspired by this post? Check out our film audition listings!