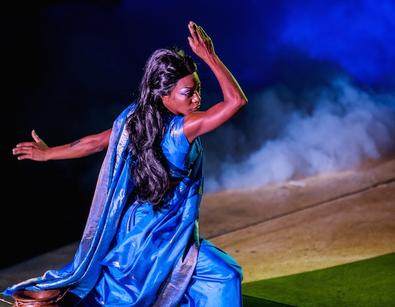 In an effort to raise awareness about water shortages around the world, "One Night for ONE DROP," in association with Cirque du Soleil, will be screening nationwide, for one night only. The performance, which took place March 20 in Las Vegas' The Beatles LOVE Theatre at the Mirage Hotel & Casino, is set to be shown June 10 at 7:30 p.m. in dozens of theaters to benefit nonprofit organization ONE DROP.
Established by Cirque du Soleil founder Guy Laliberté, the organization "strives to ensure that water is accessible to all, today and forever by developing integrated water-access and management projects around the world," according to a statement.
The screenings, presented by Fathom Events, will include a close-up look at the marvel that is Cirque du Soleil, as well as behind-the-scenes footage from the performance featuring over 100 Cirque cast members and additional special guest performers.
"We are so excited to have 'One Night for ONE DROP' featured in the cinemas nationwide," said creator-director Mukhtar O.S. Mukhtar, in a statement. "To be able to share this once-in-a-lifetime performance with a larger audience is a dream come true, not just for me, but for the hundreds of Cirque volunteers that offered their talents and support to raise awareness for critical water issues around the world."
For a list of participating theaters and to purchase tickets, visit FathomEvents.com.


Inspired by this post? Check out our dance audition listings!