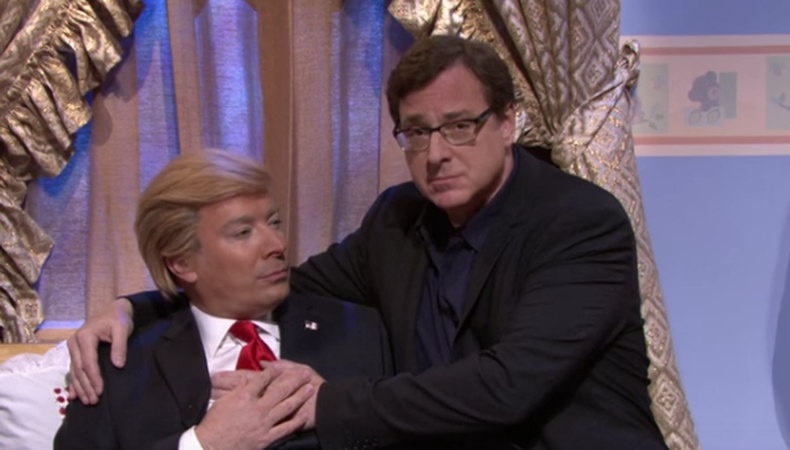 Have mercy! Trump meet the Tanners.
Jimmy Fallon whipped out his spot-on impersonation of Republican presidential candidate Donald Trump alongside Bob Saget, John Stamos, Dave Coulier, and company, in a sketch for "The Tonight Show Starring Jimmy Fallon."
The cast of "Fuller House" reunited ahead of the show's Feb. 26 Netflix premiere in a set replicating Michelle's bedroom from the original ABC series.
Fallon's Trump is anxious about the upcoming primaries.
"Look, I know I won in New Hampshire—my numbers were huge," Fallon says pursing his lips similarly to Trump. "But I'm afraid that if I don't win the nomination, everyone will say I'm a loser."
Lori Loughlin, Candace Cameron Bure, Jodie Sweetin, and Andrea Barber also show up to offer wise words of wisdom.
"I have to stay in the race, otherwise a Clinton will be in the White House again," Fallon concedes. "I mean who wants to see something from the '90s come back in 2016?"
Saget, Stamos, and Coulier console Trump as their characters Danny, Uncle Jesse, and Joey.
The sketch ends perfectly with hugs and kisses in quintessential "Full House" fashion along with a perfect group sing-along of the show's theme song, "Everywhere You Look."
Check out the entire sketch of Jimmy Fallon as Donald Trump with the cast of "Fuller House" below.
Want a career in comedy? Learn how to refine your comic persona!