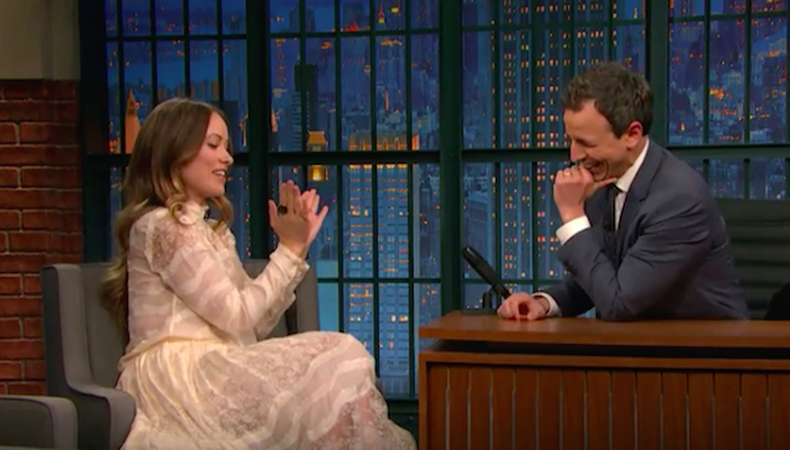 Olivia Wilde is no stranger to nudity on her new drama series "Vinyl."
While visiting late night talk host Seth Meyers, Wilde talked about working for a show on HBO and how common nudity is on the pay cabler. She joked that when taking the job one knows "that you'll be naked 50 percent of the time."
"That is the gift HBO provides to young people who can stay up late enough to see boobs," Wilde said.
Wilde portrays Devon Finestra, a former actor and model with old ties to Andy Warhol's Factory scene. She is also wife to Bobby Cannavale's record exec Richie Finestra.
Wilde mentioned sporting a merkin, or a pubic wig, on the drama. She said it makes her feel a little less naked.
There is also a merkin wall on set displaying each different colored piece with a corresponding name to each female character. Wilde likened it to "Build-a-Bear" and called it "Build-a-Bush."
She makes it well-known on set that the merkin she wears is very fake.
"I was so vocal about it being fake because I was horrified that background actors might think this was my real body hair," Wilde said. "So I was walking around like, 'Woah check this fake merkin out everyone. It's not real!' "
"Vinyl" airs Sundays at 9 p.m. on HBO.
Watch Olivia Wilde talk about nudity on "Vinyl" with Seth Meyers below.
Inspired by this post? Check out our television audition listings!