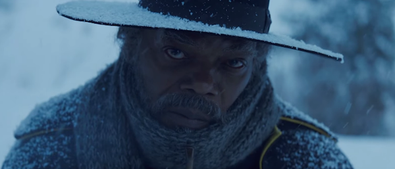 The long-anticipated trailer for Quentin Tarantino's eighth film, "The Hateful Eight," has finally arrived! And it's full of everything we love about the prolific filmmaker, including his stalwart casting of familiars Samuel L. Jackson, Tim Roth, Michael Madsen, and others, including Demian Bichir and Jennifer Jason Leigh, as well as his pithy one-liners, and sprawling Western shots, this time captured on 70mm film.
After a rocky start when the "Hateful" script was leaked back in 2014, the film about bounty hunters caught in a blizzard in post-Civil War America will officially be released later this year.
Like the 2012 Oscar-winning "Django Unchained," "The Hateful Eight" is set to drop Dec. 25.
See the trailer below!
Want more film experience under your belt? Check out our film audition listings!