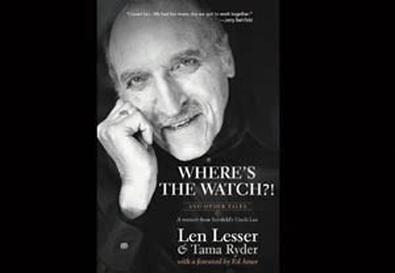 The following is an excerpt from Len Lesser and Tama Ryder's book, "Where's the Watch?! and Other Tales; A Memoir From Seinfeld's Uncle Leo."
At age 27, I enrolled in the American Theatre Wing, where I was given free classes as an ex-GI. I took everything they offered—acting, directing, speech, even makeup and fencing. The school had a great reputation and boasted some of the biggest names in the field as teachers. In fact, the Tony Awards were named after Antoinette Perry, one of the founders of the American Theatre Wing.
I got to take directing classes with Lee Strasberg—who was already a big deal. The only problem is that I found directing classes quite dull, even under the tutelage of someone as renowned as Strasberg. I would fall asleep during his lectures and wake up to find Strasberg standing over me. "Len, get up!" he'd yell. This was rock-solid proof that I didn't want to be a director. If I fell asleep listening to Strasberg, then apparently this was not my life's calling.
Years later, I'd remember that class when someone asked me if I ever thought about directing. "Absolutely not," I'd say. "I never thought about anything but acting." I don't think the person asking ever believed me, but they'd never sat in Strasberg's class with me. His classes were at their best when he'd bring in actors and show us scenes. I loved watching these actors, picking up new tips.
I eventually made it to the showcase class at the American Theatre Wing, the final graduating class. Lee Marvin was in that class with me, a struggling actor like myself. But he was really good, even then. We all worked hard to please the teacher, Joseph Anthony, himself an actor and director. I'll never forget Joe's piercing eyes or the way he'd bang on a chair while you were doing a scene. It was disconcerting, but made me concentrate all the more.
A few weeks after I graduated, I went up to the Theatre Wing offices to rehearse a play I was doing. I sneaked into the room where they kept the records on the students. I thumbed through them, until I came across the folder that said "Leonard Lesser."
It had one sentence written across it, signed by Joseph Anthony: "Should become a stage manager." I felt sick.
But in the days that followed, I became determined to prove him wrong. I knew I could be a good actor. And I believed others would eventually agree. I upped my level of commitment to the craft by seeking out more classes. The Method was taught in most acting classes back then. Unfortunately, despite my best efforts, I could never quite master it. I began to overthink my acting instead of being in the moment. Of course, the technique is really just meant to prepare you—it's homework—and you're supposed to forget it when you walk on stage. But I was never able to do that.
A few months after graduating from the American Theatre Wing, I got a call that a big-time agent was willing to see a group of Theatre Wing alums for possible representation. He had seen us perform on our showcase evening. There were six of us in total he wanted to see, including Lee Marvin. He signed Lee. He told the rest of us, "Good luck!" Another rejection. I wasn't so sure I'd ever find an agent. Particularly if they believed I'd be better managing the stage rather than acting on it.
But I saw the audition with that agent as a positive step. And even though only Lee got signed, I found it to be an encouraging sign. It meant there was still hope. And, little did I know, this would not be the last time that Lee Marvin would play a role in my life. I vowed to keep going. There seemed to be some powerful but nameless goal ahead.
"Where's the Watch?! and Other Tales: A Memoir From Seinfeld's Uncle Leo," published by Staff Picks Press, is available from Amazon, Barnes & Noble, and other bookstores. Len Lesser was an award-winning actor and a longtime member of the Academy of Motion Picture Arts and Sciences. His career spanned more than six decades, during which he appeared in hundreds of critically acclaimed stage productions, films, and TV shows, most notably "Seinfeld." Tama Ryder (www.tamaryder.com) is a Harvard-educated writer who grew up without a television. She has written and produced an award-winning documentary about the Fresh Air Fund and most recently worked for former Sen. Bob Kerrey.