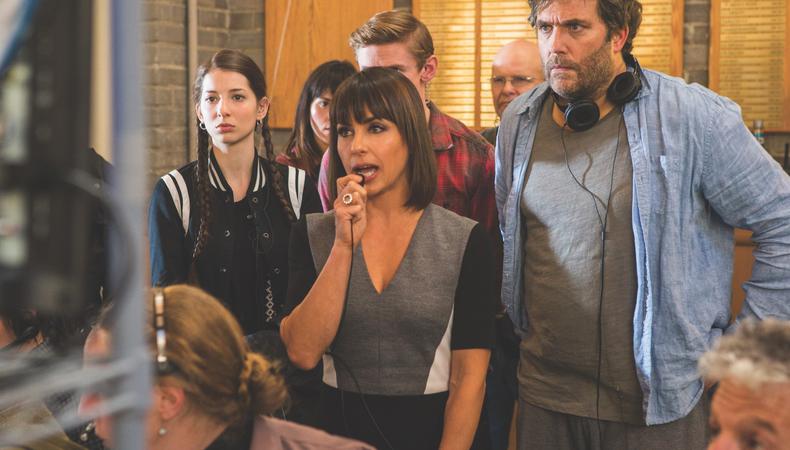 HBO's "Game of Thrones" and Lifetime's "UnReal" are both on the list—what three other series feature some of the best large-cast work currently being done on television?
"BoJack Horseman"
Would you believe that the most nuanced portrayal of the failure of the American dream existed on an animated comedy about an anthropomorphic horse? Would you log onto Netflix and begin binge-watching the dark delights of Raphael Bob-Waksberg's alternate universe, Hollywoo? It's precisely because "BoJack Horseman" is a candy-colored animated show, featuring humans and animals living side by side in Los Angeles, that it's able to get away with tackling profound, often painful, themes. Whether it's the pitfalls of modern celebrity, the inability of some people to find happiness in their relationships, or even the way powerful men with checkered pasts can continue to silence women, the show sneaks spot-on critiques into its outlandish humor. It's as astute about washed-up sitcom stars as "The Comeback," and smarter about depression than "Mad Men." This success is due largely to its phenomenal cast of voice actors, including Will Arnett as the titular alcoholic horseman; Alison Brie as the equally self-destructive writer Diane; Amy Sedaris as the unluckiest of talent agents, Princess Carolyn; Aaron Paul as BoJack's slacker roommate; and Paul F. Tompkins as the eternally enthusiastic Mr. Peanutbutter. As far as voiceover acting goes, it's some of the best on TV. —Jack Smart
"Game of Thrones"
Author George R.R. Martin built the fictional world at the center of HBO's most successful show to date, but the sprawling cast is what brings it to life season after season, illuminating the greedy, the scorned, the hopefuls, and those who fall somewhere in between throughout the Seven Kingdoms. A line is transformed with one wicked look from Ramsay Bolton (Iwan Rheon) or a well-timed eye roll from this year's Emmy-winning Peter Dinklage as Tyrion Lannister. In Season 5, Lena Headey continued to transcend the page as Cersei, particularly after she was stripped naked and paraded through King's Landing. And Emilia Clarke imbues Daenerys with a strength that tempers her moments of fear, as when she's high on the back of a dragon. But it's peripheral characters like Lady Olenna Tyrell (Diana Rigg), Samwell Tarly (John Bradley), Hodor (Kristian Nairn), and Tormund Giantsbane (Kristofer Hivju) who add the ultimate level of richness to the "Game of Thrones" universe, leaving audiences anxiously awaiting April 2016. —Briana Rodriguez
"Playing House"
The best TV comedies create a world in which one would happily live forever and ever—and that's certainly true of the small Connecticut town envisioned by "Playing House" creators Lennon Parham and Jessica St. Clair. Pinebrook is home not only to Maggie (Parham) and Emma (St. Clair) and their wild adventures, but to a whole range of oddball characters, from Marissa Jaret Winokur's eminently motorboatable waitress to Jane Kaczmarek's popped-collar matriarch to Keegan-Michael Key's long-suffering cop. More important, these characters like each other—and it's obvious from both the episodes and the bloopers that the cast all adore each other as well. USA narrowly renewed it for a second season; let's hope the same happens again for a third, because comedies like this don't come along very often. —Mark Peikert
"Transparent"
Was any other series as of-the-moment as "Transparent"? In what has been an unprecedented year for media representation of the transgender community, Jill Soloway's Amazon series managed to perfectly tap into the cultural zeitgeist and get people talking like never before. Plus, it's flat-out entertaining. The series' exploration of trans identity would be null without its beating heart, and that's where "Transparent" gets it right. Soloway's rendering of the Pfefferman family and their patriarch-turned-matriarch Maura (formerly Morton) is a familial portrait on par with the Fishers of "Six Feet Under" and the Bravermans of "Parenthood." Largely inspired by Soloway's own family, the Pfeffermans—a SoCal-dwelling Jewish tribe—are a tapestry of experiences and secrets. Maura's coming out is just the tip of the iceberg and the onset of their truth-telling. Superb acting by Jeffrey Tambor, Amy Landecker, Gaby Hoffmann, Judith Light, Jay Duplass, and others push Soloway's story to some of the most emotionally gratifying—and essential—television this year. And it's got the Emmys to prove it. —Benjamin Lindsay
"UnREAL"
Stop reading this and go watch "UnREAL." Back? Good. As you now know, Lifetime's breakout hit combines every guilty TV pleasure—reality programming, dating shows, cheesy romance-driven drama—and somehow turns it into prestige television. Often compared to Walter White from "Breaking Bad" (so don't be embarrassed to say it's your favorite show on your next Tinder date), its female antihero Quinn (Constance Zimmer) is the executive producer of "Everlasting," a "Bachelor"-style dating show, and offers cash bonuses to her employees for "nudity, 911 calls, and catfights." As the series begins, Quinn's right-hand woman, Rachel (Shiri Appleby), has returned to work after an on-camera breakdown the prior season. Together, there's nothing the two won't do to manipulate their "show pony"—aka bachelor Adam (Freddie Stroma)—or their hopeful contestants Anna (Johanna Braddy), Grace (Nathalie Kelley), and Faith (Breeda Wool), among others. But is there a workplace romance? Duh! Both Quinn and Rachel are involved with co-workers Chet (Craig Bierko) and Jeremy (Josh Kelly), respectively. But never mind the plot: Zimmer and Appleby lead a group of expertly cast actors (the list of which goes on and on), without whom the show would be just words on a page. As far as scripted programming about fake reality shows is concerned, "UnREAL" is the real deal. —Rebecca Strassberg
Inspired by this post? Check out our television audition listings!