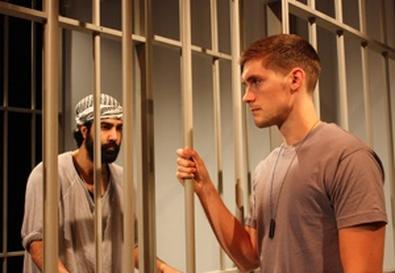 Pristine intentions can't forestall the tedium in writer-director Marios Stilianakis' verbose and unfocused drama. Setting up an enigmatic scenario that initially feels like an amalgam of Franz Kafka and Jean-Paul Sartre's "No Exit," this tale of two soldiers—an American and an Iraqi—who find themselves imprisoned in adjoining cells seldom makes the leap from self-consciously cryptic to enlightening. It appears that the playwright wanted to take the age-old war-is-hell truism beyond the obvious. Stilianakis pleads for us to view ourselves, as well as our fellow humans, as free-thinking and caring individuals, rather than blind followers of the political, social, and religious doctrines ingrained into our psyches. Unfortunately, the circuitous journey to a surprise ending doesn't seem worth the wait.
The lengthy play gets bogged down in drawn-out and repetitive dialogue, raising questions that become more frustrating than thought-provoking. How did the soldiers get here, and exactly where are they? Why is no jailer present, and how do bottles of water appear, like manna from heaven, when the men push blue buttons in their cells? Who ordained that these captives would be on this metaphoric all-liquid diet? The playwright takes us through a labyrinth of expository revelations, attempting to explore the roots of hatred and misunderstanding between two people from warring cultures. The captives find themselves cut off from their societies, forced to turn to each other for a degree of compassion, despite their irrational prejudices and a few highly understandable reasons why these particular men might resent each other.
As the deeply agitated and foulmouthed Bill, an outspoken young man bred on a farm who literally finds out he's not in Kansas anymore, David Bennett makes a creditable effort, depicting the youth's journey from closed-minded American patriot to an individual willing to reassess his beliefs. Bobby Naderi has good moments as the much calmer yet subtly calculating Iraqi, Ali, though his portrayal is sometimes compromised by indistinct diction. Stilianakis' characters clearly demonstrate a thirst for survival and inner peace, while the audience remains parched for coherent dramaturgy during this odd-couple parable for the terrorist age.
Presented by Left to Right Productions at the Lounge Theatre, 6201 Santa Monica Blvd., Hollywood. Sept. 10–Oct. 17. Fri.–Sat., 8 p.m.; Sun., 3 p.m. (323) 960-7711. www.plays411.com/water.