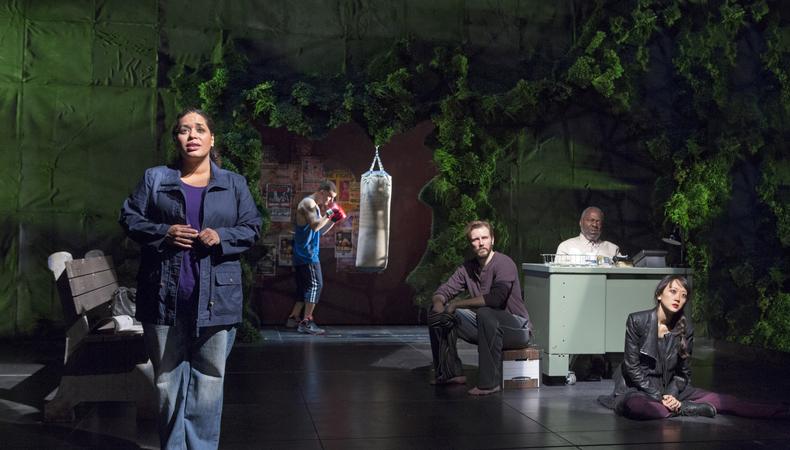 It will be quite a while before I forget the image of Liza Colón-Zayas as Odessa Ortiz, broken and alone, sitting on the floor of her threadbare Philadelphia home while ladling spoonfuls of water into empty air. At that moment, Quiara Alegría Hudes' "Water by the Spoonful" has all the power expected of a Pulitzer Prize–winning drama. Nevertheless, for much of its duration, this uncontestably warm and generous play is hampered by conventional plotting and engaging but predictable characters.
Act 1 alternates between the story of an Internet chat room for recovering crack addicts that's moderated by the 39-year-old Odessa and the tale of 31-year-old Swarthmore College music professor Yaz and her cousin, wounded Iraq War vet Elliot, who are dealing with the offstage death of their Aunt Ginny, Elliot's saintly surrogate mother. The narratives intersect with the revelation at the Act 1 curtain that Odessa is Elliot's real mother, something that doesn't come as any surprise (and I'm not sure it's meant to). In Act 2 the characters interact and affect each other's lives. Everyone is struggling with a problem, secrets are being kept, and Hudes goes about dealing with all of them openheartedly if tidily.
The denizens of www.recovertogether.com number four. In addition to Odessa, there's 20-something Madeline, Japanese by birth but raised by a white family in Maine; 50ish Clayton, a low-level African-American IRS pencil pusher; and a newcomer, Philadelphia Main Liner John, a highly paid computer programmer and entrepreneur with a young family.
Director Davis McCallum is faced with the uninviting challenge of staging large stretches of Internet conversation and he does what he can to make the exchanges active. There's no typing going on, and we are not subjected to reams of subtitles. Instead, characters simply speak out to the audience, and McCallum even lets them invade one another's space while avoiding eye contact. It helps, but the scenes go on too long, and the lack of subtext (which barely exists on the Web) is a hindrance, flattening the drama.
The show's standout performance comes from Colón-Zayas. Her Odessa is a study in opposites, convincingly magnetic, empathetic, and driven when running her website, then just as palpably unsure, defensive, and self-loathing when roiled by family dynamics. Frankie Faison is a bright but wary Clayton, Sue Jean Kim both bubbles and spits as the hyper Madeline, and Bill Heck infects John's self-congratulatory masculinity with a nasty toxicity, but none of these three skilled actors can quite erase the stereotype that underlies the role.
Zabryna Guevara's Yaz is charmingly earnest as she questions her privilege and relevance, then moving in a sudden epiphany about the need to forgive. Armando Riesco leavens Elliot's anger with a rough grace and flashing intelligence, though his diction is at times indistinct. Ryan Shams plays three small roles effectively, especially the ghost of a young Iraqi.
"Spoonful" is an admirable attempt to deal with important issues of addiction, repentance, and redemption. But I must confess to thinking there were stronger candidates for that Pulitzer.
Presented by and at Second Stage Theatre, 305 W. 43rd St., NYC. Jan. 8–Feb. 10. (212) 246-4422 or www.2st.com. Casting by Caparelliotis Casting.
Critic's Score: B