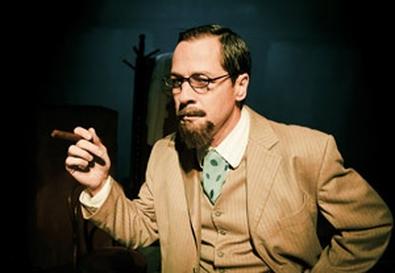 With this zany comedy, writer-director Jaime Robledo joins the swelling ranks of those who create pastiches based on Sir Arthur Conan Doyle's Sherlock Holmes stories. But Robledo's revisionist tale shifts the emphasis from Holmes to his indefatigable sidekick/amanuensis Dr. Watson. Like "The 39 Steps" seen earlier this year at the Ahmanson Theatre, much of the comedy here derives from wild and woolly events in spectacular locales being acted out with the simplest possible means. A series of footlockers and wooden boxes, moved and manipulated by a busy ensemble, serve as a speeding train on top of which there's a pitched battle against murderous Turks, then become the White Cliffs of Dover, over which Holmes (Joe Fria) and his evil nemesis Professor Moriarty (Henry Dittman) plunge to their apparent destruction.
The plot is a crazy rigmarole in which Queen Victoria (French Stewart) assigns Holmes a mission to deliver a mysterious box to an upcoming political summit, which might cause/prevent world war. When Holmes gets lost and sidelined, it's up to Watson (Scott Leggett) to save the day and participate in an international chase—via hansom cabs, trains, hot air balloons, and on horseback—all cleverly simulated with nothing more than a few chairs and a highflying chandelier. Many of Doyle's familiar characters turn up along the way, including Holmes' brother Mycroft (Eric Curtis Johnson), opera singer Irene Adler (understudy Carrie Keranen), plus Sigmund Freud (Stewart again), and Watson's long suffering wife Mary (CJ Merriman). And there's also a puppet show, with clever hand puppets crafted by Ruth Silveira.
So long as Robledo is content to focus on the comedy, the show is a real crowd pleaser, but when he attempts to get serious, it bogs down rather like the plot scenes in a musical comedy: We just wait him out. But his inventive staging usually keeps things lively. Leggett serves as a sturdy foil for Fria's manic, drug-addled Holmes, and Dittman shines as Moriarty and a host of denizens of Victoria Station. Stewart's Freud and Queen Victoria offer plenty of eccentric comedy and a sizable measure of raunch, while Keranen and Merriman have to play it straight. Lisa Ann Nicolai, Colin Wilkie, fight choreographer Andrew Amani, and Jennefer Ludwigsen make up the hard-working ensemble, who play various roles, manipulate props, and move Erin Brewster's ever-mobile set.

Presented by and at Sacred Fools Theater, 600 N.. Heliotrope Dr., L.A. Nov. 5–Dec. 18. Fri.–Sat., 8 p.m. (Also Thu., 8 p.m., Nov. 18, Dec. 2–16. Sun., 2 p.m., Nov. 28–Dec. 12.) (310) 281-8337 or www.sacredfools.org.