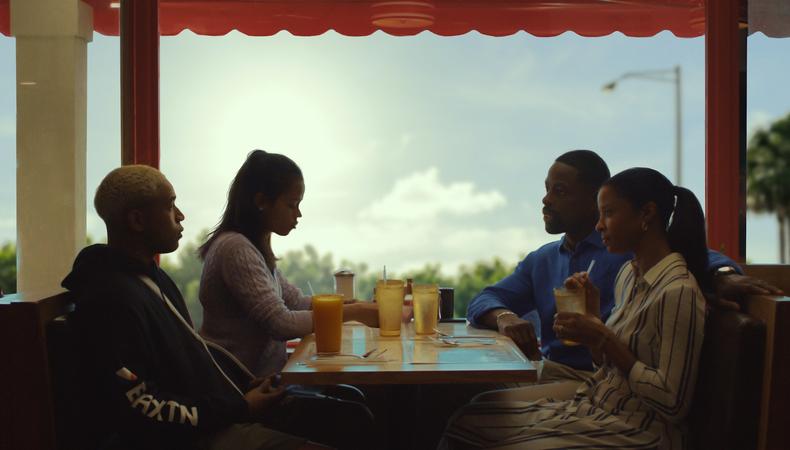 With this Year in Review, we at Backstage have picked through the weeds and found 2019's true gems of the best big- and small-screen ensemble work. And don't worry: We've got you covered with everything else you need to know this awards season right here.
Distributed by: A24
Directed by: Trey Edward Shults
Written by: Trey Edward Shults
Casting by: Avy Kaufman
Cast: Sterling K. Brown, Alexa Demie, Renée Elise Goldsberry, Kelvin Harrison Jr., Lucas Hedges, Taylor Russell
From its very first sequence, there's a kinetic energy fueling Trey Edward Shults' "Waves." His roving camera, surveying the inside of a car as it breezes down a Miami freeway, imbues this family drama with an unrelenting vibrancy that constantly keeps you on the edge of your seat. Matching the film's euphoric cinematography and pulsating score, Shults' actors lean heavily on a kind of crackling physicality that grounds its intimate plot. The director's focus on his actors' bodies—muscles straining during wrestling practice, biceps bulging during at-home workouts, shoulders hunching in hospital rooms—highlights the way this is a film about the way we carry our ambitions, our burdens, and even our grief in our bodies.
At the center of "Waves" is Tyler (Kelvin Harrison Jr.), a star wrestler with high hopes of riding his athletic prowess all the way to college until a sports injury and unplanned pregnancy threaten to derail his well-laid plans. Sporting bleached blond hair and a chiseled body, Harrison Jr. is electric, slowly tracing Tyler's unraveling the more he loses control over the life his father Ronald (Sterling K. Brown) had mapped out for him.
"Waves" is structured as a series of duets and moments that ebb and flow while sketching out its interconnected central relationships. It's a testament to Shults' ensemble that every one of those matches feel lived-in. Harrison Jr. and Alexa Demie, playing Tyler's girlfriend, together portray a wildly explosive teenage couple who know exactly how to get a rise out of the other. Their chemistry is undeniable; the two demonstrate how a volatile high school relationship can quickly end in tragedy.
Similarly, Tyler's relationship with his father teems with latent violence. The escalating aggression between the two—at first on-the-surface playful, later violently so—telegraphs a toxic bond that neither can escape. Harrison Jr. and Brown create a father-son dynamic that is layered, never letting it feel one-note. Instead, their competitiveness and hardened adoration for one another feels weighted with years of unspoken resentment that eventually burst to the surface.
Locked outside of Shults' examination of toxic masculinity is Tyler's stepmother Catherine. In the hands of the wonderfully restrained Renée Elise Goldsberry, Catherine emerges as the film's beating heart even when she's left catatonic following the tragic climax that cleaves the story in two.
And then there's Tyler's sister Emily (Taylor Russell), who takes center stage in the film's second half, offering an alternate take on high school alienation and teenage infatuation. Where Harrison Jr.'s performance is all about taking up space, radiating outward with charisma and eventually unfocused rage, Russell's character at first seems to be retreating inward once her family is ostracized by the community around them. Only Luke, a gangly, awkward wrestler, eventually gets her to open up. Oscar nominee Lucas Hedges makes Luke a breath of fresh air. He's disarming and open in a way that sets him apart from the other men in Emily's life. His endearingly halting words and near-bumbling physicality make Luke and Emily's meet-cute, and later their blossoming relationship, a balm amid the broken home she now finds herself wanting to escape.
"Waves" soars on the strength of an ensemble that brilliantly balances scenes of tender intimacy with searing moments of violence, and it ultimately highlights what loss can do to a family.
This story originally appeared in the Nov. 13 issue of Backstage Magazine. Subscribe here.
Want more? Stay in the loop with everything you need to know this awards season right here!