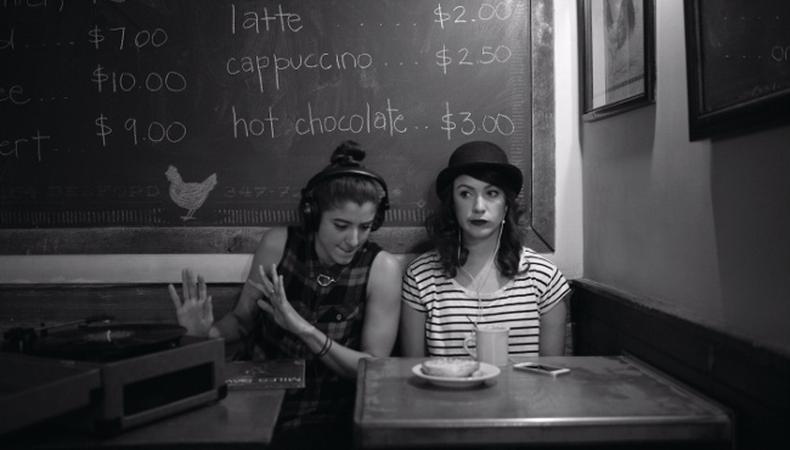 "Silent Brokelyn" is using a new medium to celebrate a very old one.
The first series distributed on InstaMiniSeries, an Instagram account promoting 15-second films for the mobile platform, "Silent Brokelyn" is a take on silent movies, complete with the period-appropriate soundtrack, intertitles, and the big, exaggerated movements of the early 1900s.
The series deals in the modern, as actors Nikki Borges and Amanda de la Nuez, friends from their time growing up in Miami, travel around Brooklyn like the "Broad City" ladies, sans sound and injected with a healthy dose of Buster Keaton.
"So much of our business depends on getting paid, and that compromises how much you're actually being creative," Borges says. "I found myself caught up in the rat race of auditioning. We're very fortunate we have these moments to perform a little bit."
Borges thought of using Instagram for a Web series when the picture-sharing service added video in 2013. The medium, with its short time frame, forced Borges and the crew to be more imaginative. "When you're creating something from scratch, you have so many possibilities; it's kind of fun to have a limitation," Borges says. While sometimes she wishes she could extend an episode to a mere 30 seconds, the time constraints force the crew to get "to the essence of what the joke is."
Borges and de la Nuez bandied ideas about what they could do with an Instagram Web series. "We thought, Write what you know. We're two girls, we live in Brooklyn, we're into comedy," Borges explains, "but nothing was hitting the nail on the head." Yet at the top of their brainstorming notebooks were the twosome's top inspirations: Charlie Chaplin and Lucille Ball.
"I came up with the idea of, '[We can] tell a story in 15 seconds if it's silent,' " Borges says. They enlisted writer Thomas Towell and director Mateo Salcedo for the 26-episode series.
Borges says she was astounded by how many people wanted to contribute, including Ahmir "Questlove" Thompson, the drummer for the Roots, whom Borges met while doing a freelance gig at "The Tonight Show Starring Jimmy Fallon"; he shows up for a cameo in the final episode of "Silent Brokelyn."
In addition to support from their network, de la Nuez's bartending tips combined with Borges' savings helped fund the series. Their shoots were carefully planned, but none required permits, leading many Brooklynites to either cock their heads in curiosity or simply walk on by.
Their next InstaMiniSeries project, which drops in the spring, will be very different from "Silent Brokelyn." Written by Ceci Fernandez and directed by Borges, "Rota Fortunae" ("Wheel of Fortune" in Latin) will follow 18 different characters, with each story based on a tarot card from the Major Arcana.
"I've really enjoyed gifting this to the people who have supported me in the past," says Borges. "I just want you to go on your phone, watch 15 seconds, and double tap it if you like it."
Like this story? See more of our Now Streaming articles here!