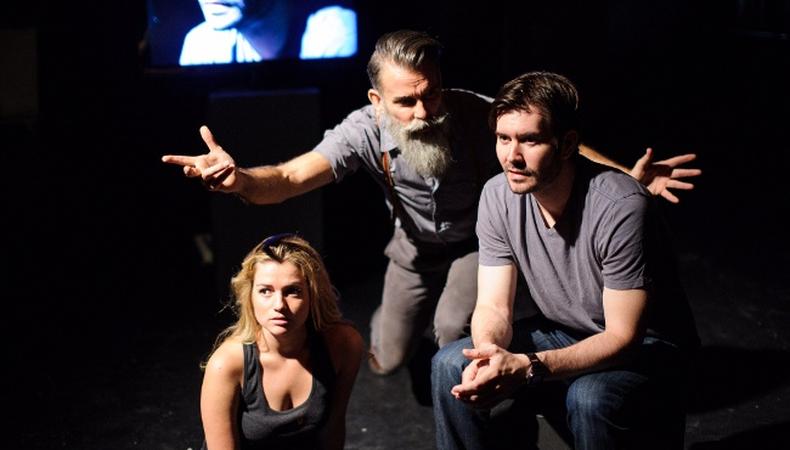 "What's your secret? What's something you've never told another human being?"
These questions form the primary building blocks for students of Brad Calcaterra, owner and creative director of the Studio and acting coach to Pat Squire and recent Emmy nominee Laverne Cox.
"The secret you're trying to keep is the art you're trying to create," explains Calcaterra. "I like to delve into a person to see what's in there—it's like clay that we can work with…. The more we feel comfortable with ourselves, the more clay there is for a director, casting person, or teacher." A strong performance in one of his classes is less about technical craftsmanship than identifying, embracing, and transforming the greatest enemy known to actors: fear.
"What are you afraid of? What is it you're perceiving could happen?" Calcaterra asks. The intensely personal nature of classes such as Act Out—a weekly course geared toward generating a creative environment for LGBTQ artists—might sound like group therapy. But there's nothing corrective or cleansing about Calcaterra's work. For him, a student's perceived flaws provide their greatest fuel.
"I found that every time we looked at the bogeyman, looked at what we think people are perceiving…all the senses came alive and you could really see the person's true energy," says Calcaterra. "And as we know, that's actually what books a job."
While it's true that a casting director is going to go with the best audition, Calcaterra believes the best audition comes from the magnetic self-confidence of being comfortable in one's skin. "They want anybody to walk in and give it something they haven't seen before. And if you're truly yourself, they wouldn't have seen it before!" Of course, he acknowledges, "be yourself" is a dictum easier said than done. "No one's addressing that this actor is under extreme anxiety right now," he says of the stressful casting environment. "They're barely in the room and they're not themselves."
Targeting that anxiety is a cornerstone of Calcaterra's classes. A working actor himself, he noticed how little past teachers focused on physical well-being. "Not one acting teacher said, 'Brad, how are you doing?' Because I probably would have said, 'I'm about ready to drop to the floor and have a heart attack!' " he says with a laugh. By checking in constantly with actors—and encouraging them to keep a log describing tough auditions in gruesome detail—he is able to acknowledge and eliminate the nerves that get the best of them.
Writing in a log also enables actors to articulate what they want and commit to it. "I think there's a preconception that this is hard. And I challenge that. I think it's hard if you make it hard," Calcaterra says. "Do you see yourself as an extra? Guest star? Series recurring? Series regular? Because however you see yourself is what you're gonna get."
It's hard to argue with this approach, as the trajectory of Cox's career proves. When the "Orange Is the New Black" star graced the cover of Time magazine as a trailblazer for the transgender movement, Calcaterra knew he and Cox were on to something. "It was the work in [Act Out] and the openness in that class that I think really supported her growth," he says, marveling at the journey they've shared from their first class all the way to the Emmys. And that's surely only the beginning.
"If you want the dream, you just have to stay focused on it. She stayed focused on it." Just as Cox embraced herself to achieve her goals, acting students have everything they could possibly need inside them to put their best selves forward. "Actors need to make a plan," maintains Calcaterra. "Follow the plan."
Inspired by this post? Check out our theater audition listings!