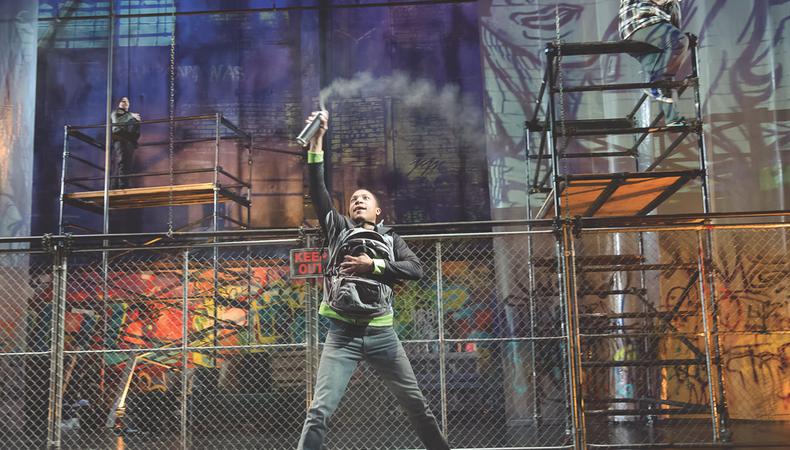 Last spring, Chicago's Steppenwolf Theatre Company held a talkback following a performance of Kevin Coval and Idris Goodwin's "This Is Modern Art." Of the roughly 500 audience members who saw the play, a staggering 400 remained to participate in the postshow discussion.
"It was the dream audience," remembers Hallie Gordon, an artistic producer at Steppenwolf. "You had our subscribers in the house, which are primarily older, white, upper middle-class. You had kids from Englewood, professors from the Art Institute of Chicago—across the board it was the audience that is the city of Chicago."
The play, which focused on graffiti and what qualifies as true art, drew such a diverse crowd in part because of its controversial subject matter; postshow talkbacks became multilayered debates over public issues directly relevant to the Chicagoans present. But the real reason a wide array of voices could be heard in those conversations was that "This Is Modern Art" came from the Steppenwolf for Young Adults educational program.
Building on the theater company's legacy of staging thought-provoking, ensemble-based theater, SYA presents one fall and one spring production to coincide with the high school semester schedule. Both shows feature professional actors and are designed to establish a dialogue between local students and teachers. Gordon, the program's artistic and educational director, works closely with faculty in over 50 Chicago schools, pairing them with Steppenwolf teaching artists, incorporating the shows' source material into classroom curricula, and making sure those postshow talkbacks cover, as she puts it, "more than just, 'Did you like the play?'
"The art they see onstage is the beginning of a conversation, not the end," she says. "We curate those conversations so it taps into the curriculum and the line of inquiry we're framing the whole year round."
Getting high schoolers to interact deeply and honestly with art in and outside the classroom isn't easy, of course. "I really want to program plays that students are really going to get engaged with," Gordon says, referencing past examples "Lord of the Flies," "The Book Thief," and "Animal Farm." Considering SYA isn't generally marketed with the theater's main-stage series, the program is a huge success; student performances of the upcoming production of George Orwell's "1984" are already sold out (tickets to public performances are still available). "The idea of a show being sold out for high school students is really amazing," Gordon points out.
Asked about selecting Andrew White's stage adaptation of "1984," Gordon says plenty of schools continue to include the book on their reading lists. "It's such an iconic piece of literature that is referenced all the time. It's really important that kids understand why that is." After the success of last year's adaptation of Orwell's other classic, "Animal Farm," it became clear that staging his ideas made the author even more accessible for students.
SYA productions often include coming-of-age stories, says Gordon, but the dystopian paranoia of "1984" puts a chilling spin on that theme. "What does it mean to come of age in wartime? Who are you coming up in that? If human instinct is telling you it's wrong but you don't have anything to fall back on, where do you go?"
These questions will continue to resonate with the world-premiere spring production, a devised piece from Michael Rohd titled "The Compass." They're the kinds of questions that get high schoolers to not just engage further with their homework but contextualize their own identities as audience members—and as the artists of tomorrow. "A lot of our conversations with youth is, 'What does it mean to be a citizen in the world?' " says Gordon. "All the work in the program speaks in one way or another to that."
Inspired by this post? Check out our Chicago audition listings!