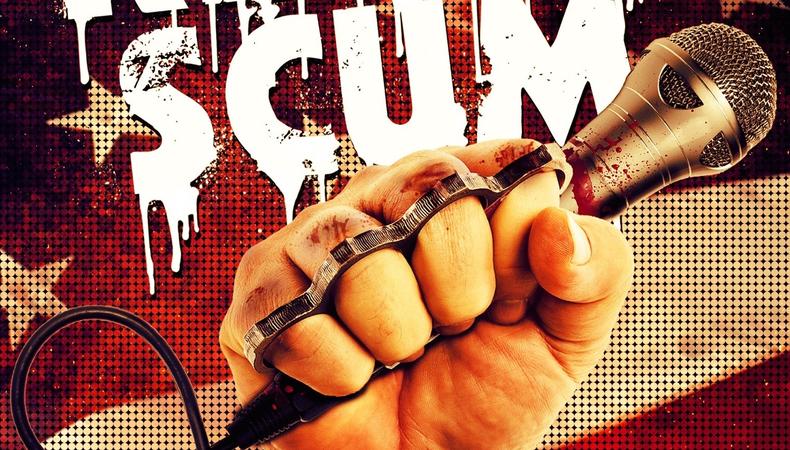 At the end of a prolific year filming music videos for Atlanta heavy metal, glam rock and Southern rock bands Mastodon, the Biters, and Blackberry Smoke, as well as Nashville's Blackfoot Gypsies, Georgia-based director Video Rahim has plenty to be thankful for come Thanksgiving. His videos for Gunpowder Gray's "Saints" and Blackfoot Gypsies' "Under My Skin" are screening at the Buried Alive Film Fest on Nov. 15, followed by the DVD and digital release of his award-winning feature documentary "Rebel Scum" on Nov. 24.
Initially creating video installations before moving on to short films, music videos, and documentaries, Rahim made a name for himself within Atlanta's thriving hip-hop scene, eventually meeting Knoxville-based punk band the Dirty Works. He was immediately mesmerized by the band's self-destructive rebelliousness.
"[Lead singer] Christopher Scum was so damn crazy, yet so honest," says Rahim. "That was the thing that really caught my eye. When I met Chris the first thing he said was, 'I'll be honest with you, I like to shoot up.' "
Though the film has been a hit at festivals for the past few years, Rahim has had difficulty securing distribution. But with the upcoming release through Music Video Distributors Entertainment Group and Wild Eye Releasing, the exploits of the Dirty Works will finally reach a broader audience.
"The guys in the band have thick Southern accents," says Rahim. "People weren't really into that and distributors didn't understand how they could sell something like that. In the last few years, shows like 'Duck Dynasty' and 'Here Comes Honey Boo Boo' started to take off, so people realized maybe we had something. The people that put out GG Allin's 'Hated' documentary really liked our film and approached us, then we had a bunch of other distribution companies approach us."
In the film, Scum lights his own hair on fire and punches himself in the face with brass knuckles during the band's bloody performances. His supporting cast of characters is seen eating bugs, abusing drugs and partaking in other debaucherous acts. With such an odd assortment of personalities, casting certainly wasn't an issue with "Rebel Scum." With more recent music videos, however, Rahim has employed singular methods of discovering talent.
"I document stuff for a lot of event companies, so I meet a lot of artists that are inspiring," says Rahim. "I get to see them performing and pull a lot of those people in. For Blackberry Smoke, we had their fans send in photos of themselves as they would dress if they went to a '70s nightclub or speakeasy. We chose all the extras from their fans."
Rahim's network of friends and collaborators also offers access to talented locals. For example, Rahim met Atlanta model Shana Melton though special effects artist Shane Morton, a regular collaborator on Rahim's videos. Melton has been featured in the Biters' "They Live"-inspired "Hallucination Generation" video and the Blackfoot Gypsies' voodoo-themed "Under My Skin." And after Rahim regular Victoria Sun appeared in Adult Swim's virally successful "Too Many Cooks," his Sun-starring video for Vito Romeo's "Emily" quickly received 10,000 additional views.
For those looking to land bigger roles, Rahim's videos can be a great addition to an actor's reel. But if you want to continue being considered for his projects, Rahim recommends taking classes, practicing your craft and being patient with the hurry up-and-wait atmosphere of a film set. He also values persistence as a sign of how serious someone is about acting.
"People often hit me up on Facebook, which is good because I can see all their photos and media," he says. "A lot of times I'm looking for more underground or eclectic people. It helps me to be able to see these people in their own clothing or if they dress up for photo shoots. That may give me an idea of how I can use this person for different projects. The more persistent people are, the more I pay attention to what they're doing. If you know a director, hit him up on Facebook and ask him to check out the things you're doing." Georgia actors looking to get into the music video scene should do just that—and check out Rahim's website for more.
Inspired by this post? Check out our Atlanta audition listings!