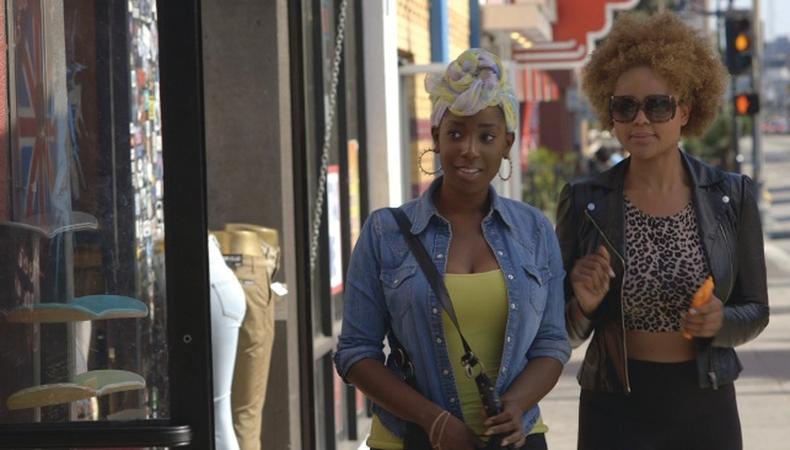 Finding the fine line between the sociopolitically aware comedy and an outright PSA is a delicate process, yet Web series "Hello Cupid" stays masterfully in the former category. The show about best friends and roommates looking for love online stays smart, funny, and grounded in its characters while maintaining a realm mercifully free of didactic stereotypes.
Starring Ashley Blaine Featherson and Hayley Marie Norman as Whitney and Robyn, respectively, "Hello Cupid" is one of the top series on the online multichannel network Black&Sexy TV, co-founded by Numa Perrier and Dennis Dortch. B&S is the powerhouse behind Web series "The Couple," picked up by HBO earlier this year as part of a development deal that will see Spike Lee executive producing.
Last year, actor-creator Featherson took to the Web for the same reason many do: a desire for creative autonomy and a low-risk distribution model. While you can see her this fall in "Dear White People," Featherson wasn't getting the quality parts she wanted, so she teamed up with writer Lena Waithe and used her personal experience with online dating to develop a script to pitch.
"The development process [for 'Hello Cupid'] has been really open and flexible from the jump," says Perrier, co-writer and co–executive producer of the show, now in its second season. "When Ashley first emailed us about the idea, it was structured around a black roommate and a white roommate, where the black roommate used the white one's photo [for her dating profile]."
In talking to Dortch, director of the series, they felt a mixed-race, lighter-skinned friend would be more fitting and took it back to Waithe and Featherson for further development.
"[Skin color] is an unspoken issue between friends that are trying to love each other and be cool with each other," says Perrier. "We wanted to do this in a way that wasn't 100 percent in your face because we really wanted the series to be about love and dating and [Whitney's] friendship with Robyn."
Watching the show, Norman and Featherson seem like effortless friends despite their classic type A–type B personality dynamic. They are comfortable enough with each other to be honest in a way only BFFs can ("Your blush is entirely too much—take some off"), but still supporting each other in their mutual singlehood.
While the show is scripted, the actors flex their improv muscles. "It's amazing as an artist to have people that trust and allow and appreciate you doing that," says Norman. "When I improv something and they laugh off-camera and maybe ruin the take, it still makes me feel good knowing we have that freedom to do what helps all of us discover even more."
As the director, Dortch understood the need to make something that "feels fresh." "We don't have the budget all the time to say, 'This has to be just like this,' " he says. "We don't have the time and we don't really have the taste for that, either. Our audience is looking for something more authentic."
The show has helped legitimize Featherson's and Norman's authenticity both on and off the small screen. Norman, who will appear in the new Chris Rock film, "Top Five," says the series was a conversation starter with Rock, who's a fan of the show, and Featherson feels it gives her an edge with other creators.
"The best thing ['Hello Cupid' has] done for me as an actor is given me some leverage in the sense that people I want to work with—companies, directors, producers—they see I'm not just waiting for someone to give me a job," she says. "I want to create content and I think that's attractive. You're not just like, 'Gimme, gimme, gimme'; you're saying, 'Hey, I've done something'—it's given me another dimension."
Like this story? See more of our Now Streaming articles here!