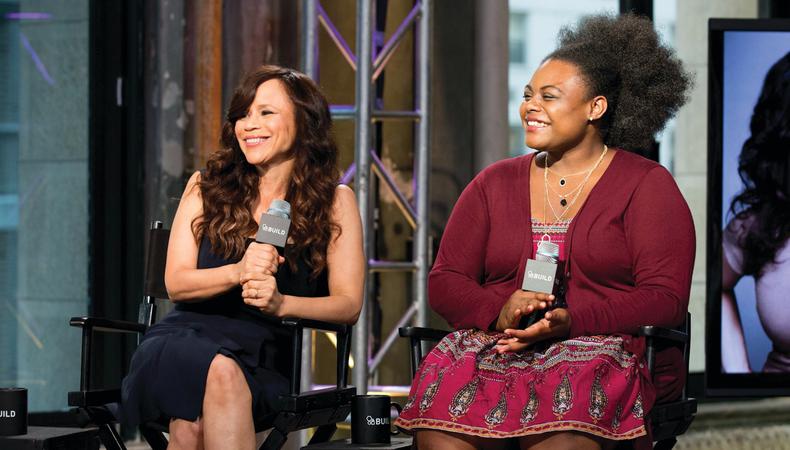 On Aug. 26, actor Rosie Perez sat down with Backstage Editor-in-Chief Mark Peikert to discuss her recent advocacy work with Urban Arts Partnership, an arts education program that "hacks the school curriculum" and delivers it to students in underserved public schools across New York City and Los Angeles.
Sitting alongside CEO Philip Courtney and UAP alumnus Alyssa "Lady Logic" Saunders at AOL Build, the three outlined the purpose and benefits of their work, recognized last year by the U.S. government with a grant dedicated to investing in innovation. Using music, poetry, and visual storytelling, teaching artists partner with classrooms to deliver lessons in subjects ranging from history to science.
In addition to hiring professionals to inspire students and getting support from actors Michael Kenneth Williams, America Ferrera, and Michael Ealy, the program offers a $40,000 college scholarship to be used toward tuition and other school fees, divided over the four years of an alum's higher education.
Saunders, who bounced around the NYC shelter system before qualifying to receive the Nagler Scholarship, called the program "empowering."
"They made it possible for me to learn these arts, learn who I am, and learn what type of artist I want to be," said Saunders during the panel discussion in front of a live audience in NYC. "It also turned me into the student I want to be."
UAP currently serves 15,000 students on both coasts, and according to Courtney, of the participants who retook the state's standardized tests, 43 percent passed; the Fresh Prep program uses hip-hop music and culture to help students who have failed the Regents test pass.
"I helped create the program from the point of view of, How do we keep [these students] engaged? How do we respect this child?" said Perez. "What I say to these kids is that I understood them because I was one of them; I was of color, I was poor, and I lived in a shitty neighborhood. You're born into that situation; you're not responsible for that situation."
Known best for her work on "In Living Color" and in "White Men Can't Jump," the Oscar nominee for her role in "Fearless" hails from Bushwick, Brooklyn. When the program's funding dipped below the operational minimum, she appeared on "The Rosie O'Donnell Show" to ask for donations. "This program not only gives to kids but it's given so much to me. I had to bring my A-game.... It was humbling."
Also included in UAP's curriculum are a dance program, a media lab program called Adobe Youth Voices, and Story Studio, a curriculum aimed at immigrant students and English-language learners. "We use visual and storytelling [methods] to help develop fluency and help develop these students' voices in the classroom and in school," said Courtney.
For professionals looking to get involved with the program, master classes are offered. "Outside of the arts education and emotional support we offer, we try to help these kids become civic-minded leaders," said Perez. "That's really important—to help and encourage and teach them to give back in some way."
Inspired by this post? Check out our audition listings!