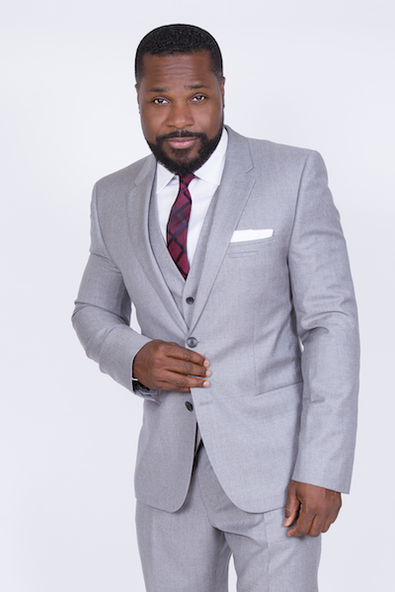 Malcolm-Jamal Warner is 22 years removed from his role as Theo Huxtable and hasn't looked back since. "My post-Cosby preparation didn't start in '92," he says, referencing the end of the iconic sitcom. "It started in '86 when I started directing."
When it comes to child stars like Warner, the odds are often not in their favor when it comes to career longevity, but Warner was determined to stick around. "I never wanted to be one of those 'Where are they now?' kids," he says. Now, fully in stride, Warner has persevered in building a career illustrative of not just a great actor, but a prolific one.
As of late, Warner's roles have ranged from Lt. Chuck Cooper on TNT's "Major Crimes," who Warner describes as "a bit of a badass," to Curtis Gladwell in Brandi Ford's "Muted" where he plays the father of a missing child. Still, at the age of 43, Warner is far from done. "I still have another 20 years until I can look back and say I've had a professional career." And now he's just been announced for a recurring role on the upcoming final season of FX's "Sons of Anarchy."
Warner chats with Backstage about his days as a Huxtable to the selection of his racially-charged roles.
On Warner's decision to take his role in "Muted."
A missing child is one of the most nightmarish crises imaginable, but how is that crisis handled when the child is African-American? This is Ford's central question in the 18-minute short "Muted," also starring Chandra Wilson, and what drew Warner to this role. "I thought the subject matter was timely and important to address," says Warner. "Cases like what the story is about tend to be handled differently when it's an African-American person versus white people. Without pulling the race card, it was a very important story to tell and very important issue to be addressed."
On challenging racism through acting.
Warner is no stranger to racially charged roles. Since his first major role as Theo Huxtable on "The Cosby Show" (a racial counterpoint to the majority of sitcoms at the time), to his role as Dr. John Prentice in the theatrical production of "Guess Who's Coming to Dinner," Warner's role choices often transcend entertainment into the realm of social commentary. "I am very interested in a role that deals with race," says Warner. "Racism still exists today. In spite of what some people claim, we are not in a post-racial era. I think it's still an important issue to bring up."
On "Guess Who's Coming to Dinner" and his return to theatrical acting.
"I started out in the theater, so this production was kind of like me coming back home," says Warner in reference to his recent production of the play adapted from the beloved film. This particular theatrical adaptation of the 1967 Oscar-winning film opened up a whole new world of growth for not only the writers, who unlike William Rose in 1967, were allotted unrestricted freedom to speak about racism, but for Warner himself. "What we get to do in 2014 that they didn't have a chance to do in 1967 was we get a chance to really deal with everyone's real emotional response to interracial relationships. In 1967 they had to tread very lightly because of the social climate," says Warner.
"The great thing about theater is that every single night you're changing. Even closing night I still had an aha moment," he continues. "The beautiful thing about theater is every night is an opportunity to incorporate what you discovered the night before."
On life after "Cosby" and foresight as an actor.
"I think it was hard not to get typecast because the show lasted for so long and it was globally successful," says Warner. "I knew that no matter how great the show was, it was not going to be around forever." This planning has undoubtedly helped lead Warner from child stardom into a professional career, and to this day is something that he's constantly aware of.
"A lot of times what happens is, not even just with child actors, but people in general, is they get so caught up in the now," he says. "The hot song, the hot TV show, the hot movie. You're not saying 'OK, this is cool, but where am I trying to be 20 years form now?' That's always been in the forefront of my mind."
Inspired by this post? Check out our audition listings!
Photo edited by: Eric Brockob Design