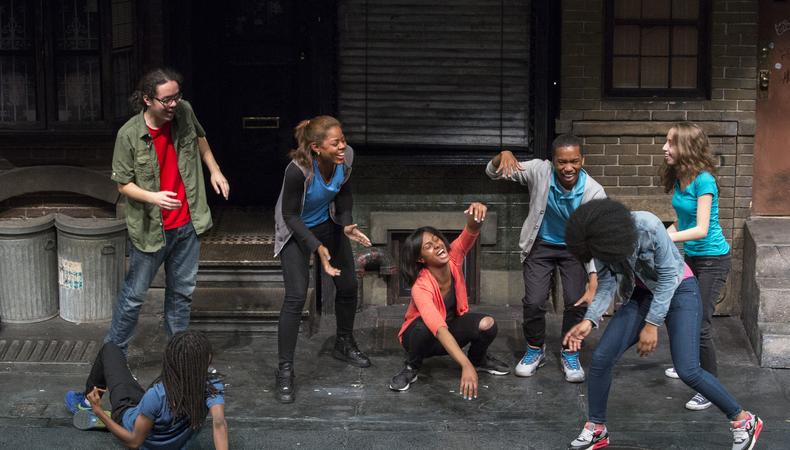 On April 21, Tony winners Anika Noni Rose ("Caroline, or Change"), LaChanze ("The Color Purple"), and Tonya Pinkins ("Jelly's Last Jam") joined David Zayas ("Dexter"), Ray Fisher, Michael Mastro, and others for a reading of "Fabulation, or the Re-Education of Undine" at New World Stages.
Written by Pulitzer Prize winner Lynn Nottage and directed by Tony winner Kenny Leon ("A Raisin in the Sun"), the social satire set in New York City tackled themes of poverty, race, health care, and womanhood in the name of nonprofit organization Opening Act and theater education. The charity event saw 19 students take the stage to perform an original work inspired by their lives and "Fabulation" prior to the play reading.
"Take a look around you," Opening Act Executive Director Suzy Myers Jackson prompted the audience at the start of the program. "Find 10 people and realize that statistically, only three of you will graduate," she said, making a point about the 33 percent graduation rate at some of the city's lowest-performing schools. Opening Act is making 32 schools around NYC, typically examples of how the education system is failing students, places of educational opportunity.
"A new report came out last year about New York City's low-income neighborhoods having a disproportionate amount of kids without arts programming compared to middle-income neighborhoods," Jackson told Backstage. "[Opening Act] teaching artists work with students for the entire year teaching acting, improv, and playwriting. The students create original, full-length plays about whatever they want; it's an opportunity for them to have their voices heard, and they have powerful voices."
Teaching artist Sean Carvajal talked about the benefits of the program. "Several students, when they first started, they couldn't or didn't want to speak," he explained. "The ensemble-based nature of the group forced them to speak English and a lot of English speakers to understand and work with Spanish. A member of that class is part of the student leadership council now; she had such a fear and now she's so eloquent." As an actor, Carvajal said teaching helps him as well. "On the downtimes when you're in between gigs, it keeps you in a realm of creativity. Opening Act nurtures and hones artists; it's a beautiful artistic community."
The "Fabulation" event raised over $100,000 with nearly $10,000 in donations culled from the audience immediately following the performance. According to Jackson, $500 sponsors a student for the entire year.
"Some people may see this as extracurricular," she said about Opening Act, "but it isn't extra at all—it's vital."
For information on how to become a teaching artist for Opening Act, visit openingact.org/work.
Inspired by this post? Check out our theater audition listings!