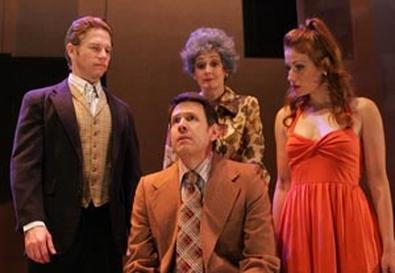 NYPD homicide detective Morris Brummell (Kevin Symons) and Christopher "Kit" Gill (Jack Noseworthy), the serial killer he's pursuing, have something in common—ball-busting mothers. The workaholic cop and the failed actor–turned-murderer, who craves fame in news headlines, air their respective frustrations in the amusing opening song, "I Need a Life." There's a hint of
Chicago
and a dash of
City of Angels
in this tongue-in-cheek musical thriller, adapted from William Goldman's 1964 novel, which became a 1968 nonmusical film. Librettist-lyricist-composer Douglas J. Cohen's cult hit receives a buoyant L.A. premiere rendition, stylishly co-directed by West Hyler and Shelley Butler.
The best news about this 1987 Off-Broadway vehicle, which incorporates an oddball premise for a musical into a surprisingly conventional framework, was the arrival of a major musical-theatre tunesmith. Cohen's delightful songs (love ballads, soft-shoe ditties, jazz, and more), boasting smart lyrics and lilting melodies, display a hand adept at revealing character nuances and advancing the story. His book plays grisly killings for broad yuks, sidestepping suspense or horror in favor of humor. Sardonic gags are plentiful, as when Kit takes the guise of a thick-brogued Irish priest and consoles a despondent Irish widow. She doesn't know how literally he means it when he croons that she's "only a heartbeat away" from rejoining her late spouse.
Four triple-threat performers maximize the pleasures here. Noseworthy is sublime as the charismatic killer—part ebullient song-and-dance man in a Gene Kelly vein, part conniving lunatic. He masters the sundry dialects, temperaments, and body language of several characters, and his singing voice is resplendent. Equally versatile is Heather Lee, who finds boundless fun as the two mothers from hell—an insufferable stage diva still nagging Kit from the grave and Morris' guilt-slinging Jewish matron—as well as various murder victims. As the romantic leads, Symons exudes appeal and wit in a fairly commonplace role, and vivacious Erica Piccininni is properly plucky as the rich art dealer who captures his fancy. Music director–keyboardist Dean Mora and three musicians serve the delicious score superbly, and design elements are wonderful. The Colony's fresh and vibrant offering is a splendid way to treat an audience.
Presented by and at the Colony Theatre, 555 N. Third St., Burbank.
April 18–May 17. Fri.–Sat., 8 p.m.; Sun., 2 and 7 p.m. (Also Sat., 3 p.m. April 25 and May 2. Thu., 8 p.m. May 7 and 14.)
(818) 558-7000, ext. 15 or
www.colonytheatre.org
.