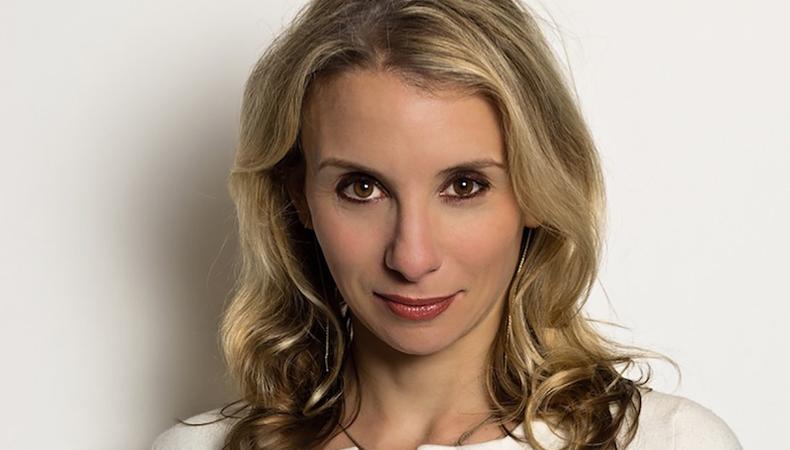 In the early 2000s, I was doing what so many great actors have done before me: I was waiting tables. I'd been in New York City for four years and had no real direction on where my artistic career was going. Right around this same time, I started working as a weekend nanny for the playwright Wendy Wasserstein. Being around Wendy was like being around your favorite kooky aunt—she was unbelievably generous, very funny, and razor-sharp.
A few months later, I got a call from a friend who wanted to do a show about a spelling bee. I came to the first rehearsal with a character I had made up on the train ride down: Logainne, a 10-year-old over-achiever with a cumbersome lisp. We put up C-R-E-P-U-S-C-U-L-E a few weeks later, and I invited Wendy to come. This woman—a Tony winner, and the first female to win a Pulitzer prize for playwriting—schlepped down to a neighborhood and theater that, on its best days, merely smelled of rats. When it was over, Wendy gave me a big hug and said, "You have to call my friend Bill Finn."
We set about putting the show up again. Up until this time, I had asked my parents and family for checks to produce our show. I knew I couldn't do that forever. I had a friend that had recently left waiting tables to go into real estate, and he kept telling me to do the same. "Never!" I said. "I am an ACTRESS!" (One that was waiting tables and nannying, and one still unable to pursue her dreams.)
READ: 27 Actors on the Survival Jobs That Shaped Them
I talked it over with Wendy, who was nothing but encouraging. "Do real estate for a few months, Sarah dear," she said. "Make a bunch of money and put your show up! People have done worse things for their art." And so I got my license.
I had recently moved to 108th St., and I called up my landlord to see if I could show the other vacant units in my building. He hung up on me. Undeterred, I called him back and kept calling him back until he allowed me to show the apartments in my own building, probably just to get me to shut up.
What I didn't realize at the time was that my landlord was basically the Wendy Wasserstein of Harlem real estate. He was a very powerful, very respected man. He had over 100 buildings that eventually became my listings over the course of a year. With his help and guidance, I learned real estate from the inside out. It was thrilling to watch a deal come together, to advise on the renovation plans of an apartment, and to meet and help clients. Most importantly, though, I felt I was in control of my own destiny; being a full-time actor is a life of uncertainty, and I knew I was not cut out for that. I loved that things were black and white in real estate. You were either closing a deal, or you weren't. It was a great balance to the creative, artistic world that I also loved, and I could pay my rent doing it.
During the next year, C-R-E-P-U-S-C-U-L-E became "The 25th Annual Putnam County Spelling Bee." Wendy and Bill's good friend James Lapine came on to direct it. Our reviews Off-Broadway were very good, and our producer, David Stone, decided to move the show to Broadway right away.
The journey of conceiving the show to opening it on Broadway took less than three years. (We were exceedingly fortunate.) At this point, I no longer had to work in real estate; for the first time, I was making enough money as an actor to not have another job. But I knew that "Spelling Bee" wouldn't be forever, and more than that, I really loved working in real estate! I found it empowering, and with the money I was making, I started to think of other shows I wanted to create.
I recruited my friends to become real estate agents, and we became a team that specialized in Upper Manhattan. One of my clients, Jon Goodell, came to work for me, and we hit it off—he had a background in behavioral psychology, and we decided to become partners. Between the two of us, we had no real business skills. But we had drive and ambition and we soon had a team of almost 20 agents. In 2012, we decided to open our own firm, Bohemia Realty Group, branding ourselves as uptown specialists with a creative edge. Almost all of our agents had a background in the arts. Most were friends or friends of friends and were attracted by the flexible schedule, autonomy the job offered, and that they were surrounded by others like themselves. One of our agents calls Bohemia "the green room of real estate." In 2016, we opened a second office in Washington Heights, and now have over 120 agents and 18 staff members. Over 90 percent of our agents live uptown, and over 70 percent have a background in the arts.
Performers are empathetic, good listeners, take rejection well, and are creative problem-solvers; these skills translate very well into the real estate world. Like me, though, most never got an education on the "business" of show business, and so for actors who become sales agents, real estate becomes that education, teaching us everything from how to negotiate, how to communicate effectively, and most importantly, how to become financially empowered. It's a great feeling to not be a starving artist!
This August, "Gettin' The Band Back Together," a new musical that I wrote additional material for, opens at the Belasco Theater. As I write this, I'm also preparing for the launch of a new development condominium I've been working on for over a year and a half in Hudson Heights. Getting both of these projects to fruition has been at times both exhilarating and frustrating, but ultimately incredibly rewarding. I am so thankful that I found a side-hustle that has turned out to be so creatively fulfilling on so many levels, and I absolutely love what I do in both fields.
I'm also looking forward to getting a tiny bit more sleep in September.
Ready to get to work? Check out Backstage's New York City audition listings!