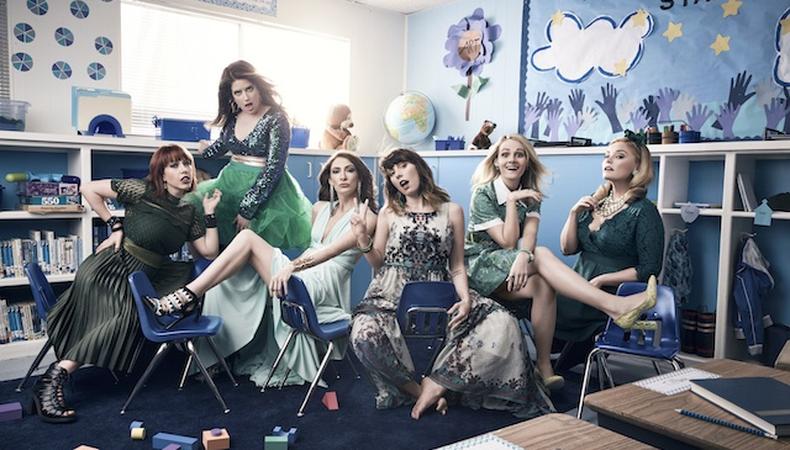 Sometimes, it's all in a name. A product of The Second City in Chicago, the Katydids formed in 2009 when six aspiring comics all named Katherine joined forces for a one-off stage show. Turns out the formula stuck. Eight years later, their one-night show has turned into a fulltime comedy troupe with a hit TV Land series to match. "Teachers" returns for Season 2 on Jan. 17, 2017.
"It's really weird that the Katydids was the group that worked out because we all were in a lot of different groups [that were] formed with the intention of getting noticed and getting big, but none of those worked out," Katy Colloton tells Backstage. "It was the one that was just for fun [where] there was a lot of trust and we were truly friends. That's the one that worked out."
Colloton shares the Katydids and a "Teachers" co-creator, executive producer, writer, and star credit with Kathryn Renée Thomas and Cate Freedman (both of whom joined her on our recent Skype call), along with Katie O'Brien, Kate Lambert, and Caitlin Barlow. While making their way through the Windy City's improv scene, these ladies started "Teachers" as a web series back in 2012. The series humorously explores the duality of six eclectic elementary school teachers who are struggling to get their own lives together while molding the minds of tomorrow. The independently made video sketches grabbed the attention of William Morris Endeavor Entertainment, which led to a pilot optioned by TV Land in 2014. After gaining the executive support of Alison Brie ("Community," "Mad Men") and Ian Roberts and Jay Martel ("Key & Peele"), the show went to series. Building off a well-received first season, "Teachers" is now gearing up for an expanded 20-episode second.
Early on, committing to "Teachers" called for some sacrifice. While they got their start in improv with "Saturday Night Live"-level aspirations, the Katydids ensemble had to tweak their initial goals of improv stardom to focus on the show. The fresh outlook, however, presented new opportunities—something Colloton, Thomas, and Freedman tell Backstage is a lesson all performers should learn from.
"It felt really good to let go of what I thought I was supposed to do and go with what felt more right," Thomas says. Freedman adds: "It's so important to let yourself go off that beaten path. Being open to saying 'yes' is huge, [and] it's something that really helped me."
Thomas says that the transition from improv to scripted programming was made smoother thanks to their established creative relationship onstage. "We were able to play to each other's strengths," she says, explaining that there was a still a learning curve. "The first year [of 'Teachers'] was TV boot camp for us. Not only was it so much work, but we were learning every step of the way on how editing, casting, and production works."
In addition to racking up showrunner knowledge, the Katydids had to master the structured craft of writing episodes for television, another new skill. "In [the web series], we used to just go off with what was the funniest," Colloton says. "But on the show, you have to focus on what's in the story, which changes how you look at things."
READ: "1 Thing Every Aspiring Sitcom Actor Must Know"
That also meant heightening the comedic flaws of their characters. "We try and keep [our characters] as authentic and unique and original as possible, but we really had to distinguish our characters more for the show, and that was a process too," Thomas says. "We didn't want to be too cartoony, but we also had to be authentic." And while "Teachers" doesn't allow for much improv while filming due to its specificity in story and character, Colloton says that their training at The Second City still comes into play when hitting a block in the writers' room. "We definitely do use improv in the writers room and on set," she says. "But first you have to have the script down, you have to have the jokes down, and you need to know what's going on. Then you're free to play."
For Backstage readers aspiring to follow in the Katydids' footsteps from staged improv to cable's primetime, the most important thing according to Thomas and the rest of the troupe is to get out and perform what you're passionate about, not just what you think will get you noticed. "Work with people you like over people you think you should work with," she says. "Follow your own path and vision over feeling that you have to fit into a box." That also means taking classes at more than one studio and not letting rejection along the way get you down.
If you're an actor who's not convinced that improv is right for you, Thomas, Freedman, and Colloton insist that the skills they've learned with The Second City has helped them as actors across the board, even in non-comedic arenas.
"I remember when I first got to Chicago, I would go to auditions all the time, and I never booked anything," Colloton says. "It wasn't until I started taking improv classes that I started getting callbacks. I could just feel the difference! I wasn't scared about doing an audition a specific way or [about saying] this line exactly the way I thought it should be said. I just started to feel free in my acting."
"It's such a killer tool for collaboration," Freedman adds. "Whether that's acting in an audition [or] having that improvisational tool in your belt to meet halfway."
"All of the rules of improv can be applied in life," Colloton concludes. "Everybody should take an improv class in their lifetime because it helps you in all aspects of your life and [it gets you] in touch with yourself as well as others around you.
Want to make it big on the small screen? Check out our TV audition listings! And for more acting advice, visit Backstage's YouTube channel!