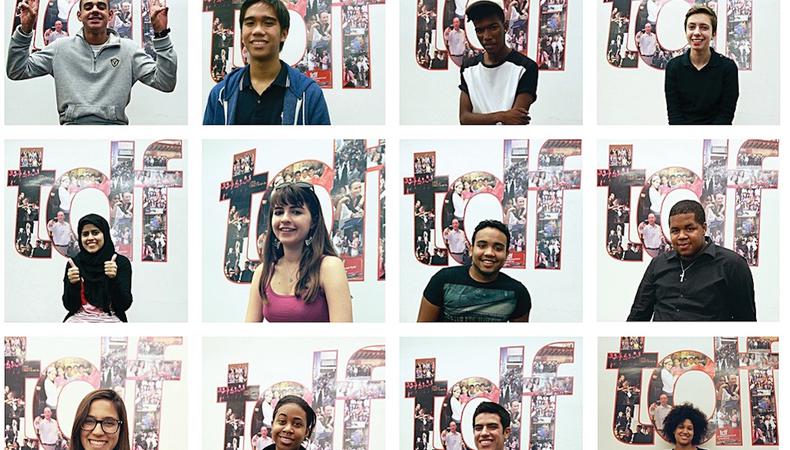 Attention young theater enthusiasts: You now have an online home to convene, collaborate, and satisfy your artistic curiosity. PXP, one of the Theatre Development Fund's new educational efforts, is a completely student-run forum for discussing and exploring the theatrical experience, from the artistic process to an audience's relationship to live performance. For self-confessed drama nerds ages 16–26, the site is heaven.
But theater newbies and those not theatrically inclined also benefit from an online community open to any and all perspectives. "It's for young people who love to go [to the theater] already and people who have never been," Daniel Renner, TDF's director of education, told Backstage. "Some love theater, some have never been, some are studying medicine, forensics, economics." A lot of PXP's content, he explained, is geared toward first-timers and the questions they may be embarrassed to ask about the New York theater scene, presented in straightforward, accessible language.
In fact, what makes PXP's latest effort even more remarkable is that it's written and curated by the very demographic it's serving. Site editor Patrick Berger organizes weekly meetings with his 16- to 26-year-old writers, who see shows, pitch ideas for posts, and send out prompts to their peers via email and social media. As Renner put it, "We get out of the way." Emphasis is on initial reactions to shows—what Renner called "your values, the lenses of your perception, your culture, your life"—rather than critical analysis.
The act of writing down gut reactions to live theater is a valuable teaching tool. "PXP is a great way to harness the energy and excitement my students have after seeing a theater event," said Ann Neary, a DeWitt Clinton High School teacher, in a statement. By creating an online community unrestricted by physical space, PXP allows students to share their convictions and learn from others' perspectives, borough to borough and peer to peer. "The written response keeps their enthusiasm levels high and allows them a voice in a medium they embrace. They join an important cultural conversation—the inclusive nature of the invitation is not lost on them."
PXP's inviting tone reflects a medium that thrives on collaboration, a group effort that is more than the sum of its parts. Paraphrasing playwright Wendy Wasserstein, Renner said, "The act of theater is something best shared with others. This is a mobile, online way to do that very thing in a very large, diverse city that's far-flung." The site also caters to younger generations in that it's designed primarily for mobile devices. For young theatergoers, especially ones not versed in the art of theater, PXP echoes TDF's greater goal of removing barriers.
"It is truly a democratic gathering," Renner said, adding that while debates on the site should be respectful, they don't have to be tame. "I'm hoping we get some controversial conversations going. Theater is dramatic; it's controversy!" To add your voice to the conversation, check out pxp.tdf.org.
Inspired by this post? Check out our theater audition listings!