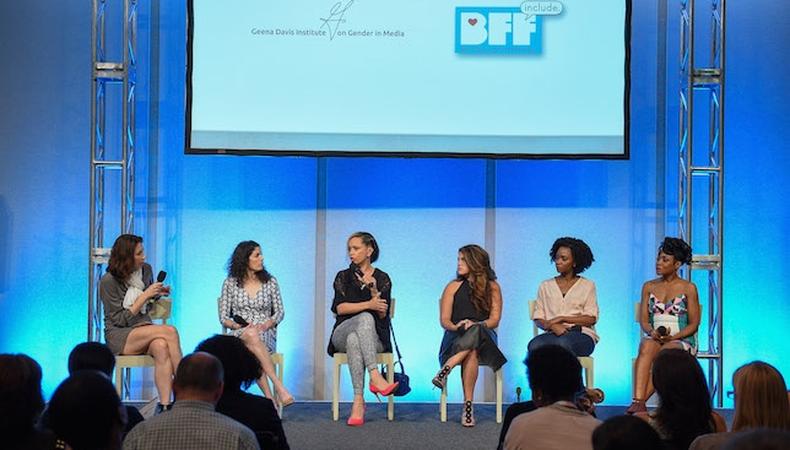 (Pictured: Dana Harris, Maril Davis, Vic Mahoney, Heather Zuhlke, Teyonah Parris, and Tichina Arnold)

When the federal government announces an investigation looking into Hollywood's discrimination against women both in front of and behind the camera, it's clear efforts to champion female and diverse voices in the film industry are growing increasingly important. The 2nd Annual Bentonville Film Festival, co-founded by Geena Davis and ARC Entertainment Founder Trevor Drinkwater, presented a handful of opportunities for influential women on both sides of the camera to voice their opinions on the state of the industry to a willing audience.
In addition to the screenings of 34 films made about, for, and by women—12 of which were world premieres—panel discussions and Q&As got to the core of the issues surrounding women in film.
Ladies Who Launch (TV Shows) featured actors Teyonah Parris ("Chi-Raq"), whose latest film "Five Nights in Maine" screened at the festival, and Tichina Arnold ("Survivor's Remorse"), as well as writer-director Vic Mahoney ("Yelling at the Sky"), executive producer of the hit Starz series "Power," Heather Zuhlke, and executive producer of the acclaimed series "Outlander," Maril Davis. Dana Harris, Editor-in-Chief at Indiewire, moderated.
Questions touched on what producers, studios, and actors can do to get more women and women of color in writers rooms and in directors chairs.
"As an actor you're oftentimes the last person considered [in the decision making process] and sometimes you're not even considered, which is amazing to me because it's like, 'You need us to make this happen!' " said Parris. "I, for myself, have wanted to get more into producing because I want to be a part of the conversation and be one of the voices in the story we're trying to tell."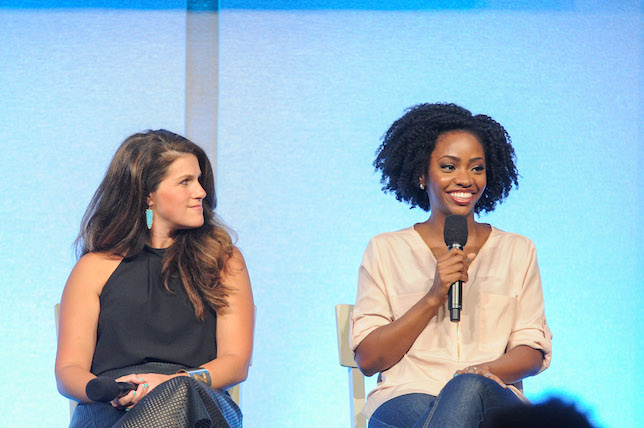 Heather Zuhlke and Teyonah Parris at "Ladies Who Launch" panel (Ernesto Di Stefano/BFF)
Mahoney, who is set to direct the pilot of Ava DuVernay's first TV project, "Queen Sugar," echoed the benefit of taking matters out of the hands of television networks and studios and advised creators to make a high-quality pilot independently to incentivize a series pick-up later down the line.
The director also acknowledged the hardship she's faced as a filmmaker whose storied TV and film career and experience acts as "the line in the sand that continues to move." She addressed the hiring of director Colin Trevorrow, who landed the massive deal to direct "Jurassic World" after his 2012 Sundance indie film "Safety Not Guaranteed;" it was his first feature film credit and was made for $250,000. "We all know he was not experienced [to direct 'Jurassic World']," Mahoney said. "Someone made a phone call for him, and that individual decided to take a risk on that filmmaker who had not been proven in that realm. So what I'm in the room asking for is for you to take a risk on me."
Addressing the "boys club" of Hollywood, Mahoney spoke of male peers who, when asked how they landed a meeting, financing, or a specific deal, responded with, "So and so said I remind him of him." "I don't know what door I'm going to walk through where someone looks at me and says that," she said.
In efforts to bring more women filmmakers into the conversation without having to rely on statements like the one above, all the films screened at BFF were required to meet two or more criterias of inclusivity in the areas of director, producer, writer, lead character, or with cast, crew, or extras. It is the only festival that's able to guarantee the winners of three categories—best narrative, best family film, and the audience award winner—distribution deals.
The jury-determined award for best narrative went to "It Had to Be You," starring Cristin Milioti, about a neurotic jingle writer who must decide whether she wants to join the ranks of her married friends or stay single. "Lost & Found," about two boys on a treasure hunt arranged by their estranged uncle, won the best family film category, while "Floyd Norman: An Animated Life" took the Audience Award. The documentary followed the first African-American animator at Disney. Norman, 80, was in attendance to accept the award alongside director Erik Sharkey.
Alice Coulthard, star of Civil War–era "Josephine," took the Dernsie Award honoring the fest's best actor. The award was named in honor of Oscar nominee Bruce Dern, who was in attendance to present the award. "Empire" actor Mo McRae presented the Best of the Fest award to "No Greater Love" alongside DJ Henri. "Fair Market Value," the rom-com about competing real estate agents on Long Island, took best ensemble.
Actors in attendance at the five–day festival included "Fresh Off the Boat" star Constance Wu, "My Big Fat Greek Wedding" creator Nia Vardalos, "Jane the Virgin" lead Andrea Navedo, Meg Ryan, Jon Voight, Robert Townsend, Kathy Najimy, Joey Lawrence, and others.
Despite the festival having wrapped, the opportunities haven't. In addition to offering automatic distribution to three films, BFF is also collaborating with its sponsor, Lifetime, for a scriptwriting competition. The network is seeking full-length scripts to option for development. Applications will be accepted May 30 through July 8.
Inspired by this post? Check out our film audition listings!