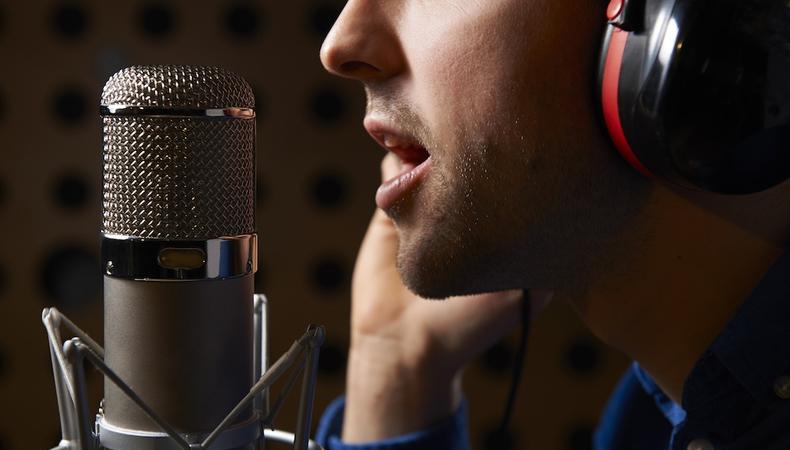 There are many ways to enter into voiceover, but it's much easier to get into this lucrative industry if you're already a trained actor. Not only can you supplement your income with voiceover work, but you already have many of the skills required thanks to your actor training. Allow me to explain...
There are several types of voiceover, or voice acting if you prefer. All pay comparatively well and all are commonplace in the industry today. And as a trained actor, you likely already possess many of the skills necessary to not only book these jobs, but to thrive in them:
1. Narrative voiceover
Narrating television, film, radio, and any number of commercial products. Typical salaries for this range from $175-$300/hour, plus royalties or buyouts if applicable depending on the job.
2. Commercial voiceover
Advertising on radio, television, cinema and, of course, the web. The basic studio fees (BSF) in commercial VO are as the narrative fees above, but the performance royalty buyouts in this sector make eyes turn green. For a good national commercial you can easily pick up $10k-$15k for just a couple of hours work, based on the number of times the advert is viewed. Web is the most popular and the standard usage for web advertising is around 400% of your BSF.
3. "Voice of God"
Performing as the master of ceremonies or the evening announcer at corporate events is big business globally. With over 1.8 million events happening each year in just the U.S. alone, there's a huge demand for solid VOG talent to help control the attendees and make the event run smoothly. It's not uncommon to earn from $500-$3,000 for each individual event.
READ: How Much Should You Invest in Your Voiceover Career?
4. Animations/character/kids
Though there are less opportunities than the events market, there are more and more animations, cartoons, and web series being made each year. Successful animations go viral and stars are born. Tied into merchandising, the animation market extends globally and can make people a lot of money. For payments, there are your BSF's, royalties, buyouts, and of course any merchandising you can get (plus appearances and trade-shows if you're successful).
5. Audiobooks
The writing was firmly written on the wall when Amazon bought Audible—the world's largest producer of digital audiobooks—that voiceover work in audiobooks was only going to increase. It's no joke to say that every single fiction book published today will have an associated audiobook. The pay is comparatively low for an audiobook compared to some streams, in the region of $800-$1500 per book, but the work is steady and there's a lot of it.
6. Gaming
In today's gaming market, stars are born. Look at Troy Baker, the star of huge franchises such as The Last of Us, Batman (playing both Batman and the Joker, after Mark Hamill), Uncharted 4, Infamous, Borderlands, Bioshock Infinity...the list goes on. Games aren't restricted by geography and quickly become huge around the globe, played regularly by millions. For smaller parts, your BSF and 100% buyout per hour applies. If you start to become well known, you start to command your own price.
7. Corporate
While a little more grey and dull-sounding than the rest, the corporate VO world is easily the biggest marketplace for voice artists. Steady work, well paid as an hourly rate, reasonable buyouts, and a nice income applies with your basic studio fees, and sometimes usage.
If it's that easy, why isn't everyone doing it?
First, let me say that becoming a great voice actor is not easy. It take time and effort, but herein lies the rub. The marketplace is getting more and more competitive as time goes on. The industry is growing every day—there are more jobs for everyone and more voiceover artists entering the industry.
This may sound like bad news, but it's actually good. It's now increasingly easier for casting directors to spot the great talent amongst the poor as the gap between those with experience and training and the newbies widens. You may not be trained as a voiceover artist (yet!), but as a trained actor you have much more on your side than you might imagine.
Next week, we'll explore the skillset you have as an actor, and why it will help you book voiceover work. Stay tuned!
Hugh Edwards is an active voice director and casting director with over 190 game, film, TV, and cinema titles to his name, including Harry Potter for Kinect, "Iron Man 2," "Captain America," the Beijing Olympic Games, and many more. He is also the CEO of Gravy For The Brain, which specializes in voiceover education, events, and mentoring. Hugh has won numerous awards for his work including Best Audio at the RDC, Best Post Production House at the TMT Awards, and was nominated for no less than seven Best Audio Outsourcer awards at the Develop Awards. Follow Hugh on Twitter or Facebook.
Inspired? Check out our commercial audition listings!
The views expressed in this article are solely that of the individual(s) providing them,
and do not necessarily reflect the opinions of Backstage or its staff.