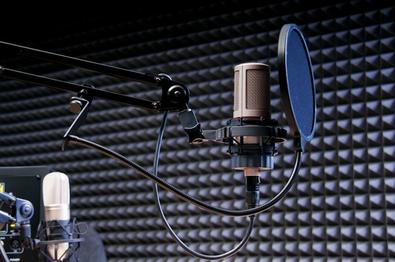 The voice-over industry is an incredibly tight-knit, supportive community. That community, largely thanks to the internet, has become global in nature as talent are connecting with casting directors on the other side of the planet and producing voiceovers heard in locations they've never actually been.
Voice talent rally together connecting and supporting each other across countries through online networking, conferences, teaching, and simply by being a friend—even when in direct competition for the same jobs.
That's something that's critical to understand about the industry. If you are competitive in nature, you'll need to learn how to be a good sport about it. When you lose a job to another talent, it's important to be able to step back and say, "Hey, congratulations on landing that job!" After all, as with acting in film and television, the real job for a voice-over artist is auditioning. The booking to auditioning ratio can seem discouraging at first but every time you audition you are marketing your voice by putting yourself in front of the right people, and making an impression on the casting director. If you make a good impression they will remember you and may think of you for their next voice-over project.
So to maintain a good rapport with all the players on the field it's important to be aware that your actions and comments are observed by others who may be of influence in the industry. Avoid sabotaging how others see you by following these do's and don'ts:
Don't be a mudslinger. Remember that old saying, "If you haven't got anything nice to say, don't say anything at all." It's good advice to follow both online and off. Resorting to gossip, name calling, or bashing the integrity of another person or company is likely to come back and haunt you later. This is especially true online where those comments live on forever. If you have a problem with something or someone be professional and address it directly with them or with the appropriate people.
Do speak positively of others. If you've had a great experience on a job let people know about it (as long as you're not under an NDA!). There's nothing quite as nice as receiving accolades from someone you've worked with. And good things come around. They are likely to push that kindness forward.
Don't make promises you can't keep. If you've committed to working on a job, then move mountains to make it happen on time and as you've promised. Delivering files to your client two days past the deadline reflects poorly on your professionalism.
Do let clients know if you will be unavailable. Occasionally you'll audition for a job and something interrupts the casting process. Then out of the blue you're hired for that job – months later. If you've planned a vacation or will otherwise not be available let them know before accepting the job. They may be able to work within your availability or may need to go with someone else. Either way, they'll appreciate you being up-front with them and they'll remember it next time.
Don't flip flop on your price without good reason. Assuming nothing changes with the actual amount of work being requested, if you've quoted a specific price for a job stick with it. There's nothing more maddening than hiring someone and then they up their price afterward.
Do define what's included in your rate. If you typically include two minor revisions let the client know. If revisions are extra let the client know how much and try to do so upfront. If you can offer music and FX let the client know. Additional post-production services are an excellent add-on to voice-overs. Many clients will appreciate your expertise and are willing to pay for it.
Don't embellish your abilities. If you say you can perform character voices or accents you'd better be able to pony them up at the drop of a hat. If you'd like to have those skills but don't get the training you need in order to live up to your claims.
Do get permission to use real jobs on your demos. It shows forethought to ask permission from your client before showcasing the spot on a demo for your website. Even if there was no NDA, the client may have some reservations such as timing, how it's presented and how much is disclosed about the spot. For others, they'll see it as a promotional opportunity not only for you as the voice talent, but also for their work.
Lin Parkin is a writer and editor. She covers all things related to the voiceover industry including technology, business, and marketing.
Browse our voiceover audition listings and then check out the video below for more great advice!
Source: Voice Over Times