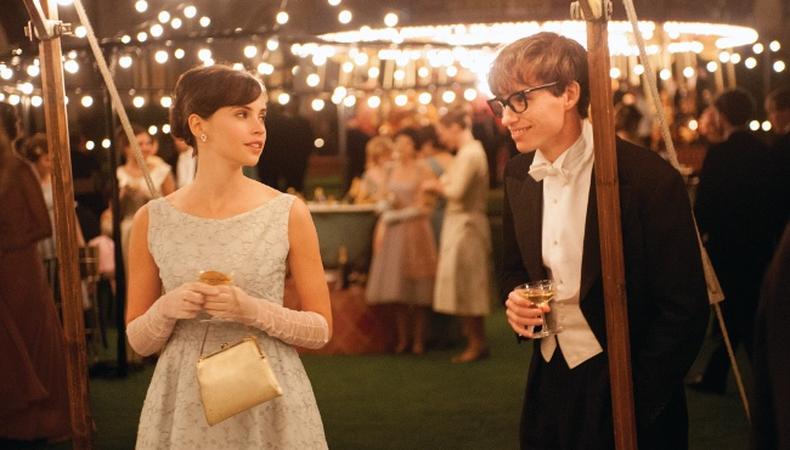 Starring in a biopic can lead an actor down a dull, predictable path, but Felicity Jones' performance as Stephen Hawking's wife, Jane Wilde, in "The Theory of Everything" adroitly avoids every single trope.
"It didn't feel like there was anything I couldn't explore," says Jones. "I knew immediately when I went round to Jane's house [in preparation for the role] and she opened the door, she was sort of just this vision of expression. She has a real lightness to her and I thought that's an amazing contrast: the lightness of her being and her voice and her gentle qualities, and this formidable Grecian strength of will. I just thought, This is going to be great! I love this woman!"
Jones, who plays Jane from ages 18–45, says it was while trying to capture Jane's "high-pitched and musical" voice that she "found" her. She watched videos of the Queen of England and worked with dialect and music coaches for several months before shooting to find that sweet quality.
But the voice is just one aspect of Jones' performance, which captures both a raw vulnerability and a reticent but indelible strength. Jones gradually teases out the full picture of the woman who cared for Hawking (Eddie Redmayne) in the face of his debilitating disease.
"Eddie and I felt so passionate about Jane and Stephen, yet there's an antagonism in their relationship," says Jones. "We would argue on set and have strong ideas like, 'No, this is how it should be,' but it was always in good faith; we just both felt so strongly."
To prepare herself for the caregiving aspect of the role, Jones says she spent time with her grandmother, who has dementia, to understand what it means to try and "keep the essence and dignity of a person even though they're going through something horrific."
Jones, who has no formal training but has been acting since she was 11, takes a meticulous approach to her craft. "I went to university and that academic approach makes sense, initially, to understand and try and interrogate who that person is, their world, what they like to read; I love knowing all that," she explains. "What kind of music do they listen to? What time do they get up in the morning? I try and have a very strong sense of their character before I get to set. It's almost a very theatrical process and rehearsal time."
For Jones, this meant holding on to Jane's commitment to her own academic endeavors while still trying to care for her husband and their children. She emphasized the importance of a scene where Stephen and the kids are playing loudly while Jane is trying to write a thesis paper. "I thought, We have to show that side of this woman, because part of her struggle is wanting to have her own identity," she says. "I think when James [Marsh, the film's director] saw that moment he understood what I was trying to do."
Jones rehearsed with Marsh and Redmayne in London for several weeks before she and her co-star met independently. As young, vibrant lovers, Jones and Redmayne capture a real sense of adventure and playfulness that Jones says was born out of rehearsal.
"That scene where we're running down the bank and then they spin around, that came out of rehearsal," she says, before admitting the film took over her and Redmayne's whole lives. "I didn't see any friends or family for, like, five months. It's hard, what [Jane and Stephen] are going through, and you can't not take it home at the end of the day. It was exhausting."
But judging from Jones' performance, the hard work paid off.
Inspired by this post? Check out our film audition listings!