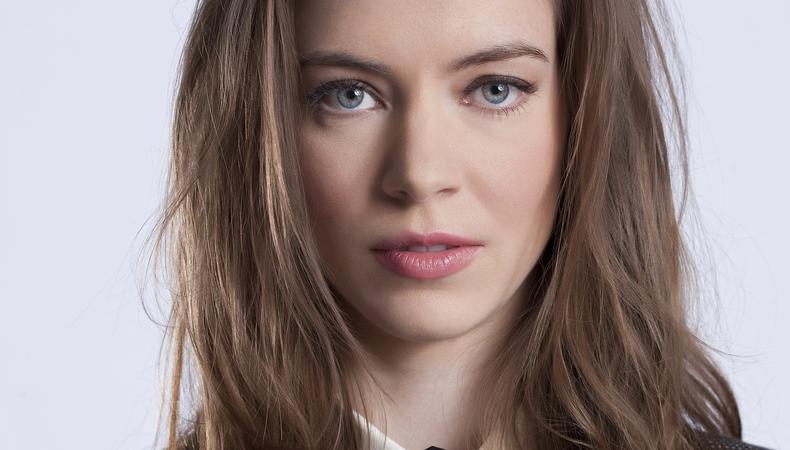 Elena Sanchez is no stranger to big budget feature films, but the release of "The Hunger Games: Catching Fire" on Nov. 22 will be the first high profile film the stunt performer has an acting role in. "[I'm] just trying to take it all in and take it all one day at a time," says the actor, who will also be seen in "Tokarev" with Nicholas Cage early next year.
Sanchez studied acting at Cornell University and the Lee Strasberg Theater and Film Institute but fell into stunt work when the first role she booked after drama school was a commercial looking for someone with gymnastic abilities. Sanchez's years of experience with the sport made her an ideal choice. "I loved the physical aspect and I loved being on set. I started working and never stopped, and now especially in the last year, I've done more acting that requires doing my own stunts. I love that because it's the best of both worlds," she says. "I definitely love the action stuff. I would love to play like some kind of female action hero," adds Sanchez. Playing Cecelia, the Tribute for District 8 in "Hunger Games: Catching Fire," gives her the perfect opportunity to combine her acting and stunt skills.
Sanchez talks about her adventures in stunt work and offers advice in transitioning from stunt work to straight acting.
Take initiative.
Sanchez is no stranger to going out and finding work on her own. Since a lot of her work has been stunt work, Sanchez has learned not to rely on an agent to find projects. "It's all your own efforts, you have to go out and pound the pavement and hope that something comes from it. It's a lot of building relationships," she says. "Once you've worked on one movie and you know that stunt coordinator, you can get in touch with him and hopefully he'll have something for you when he does his next movie." In fact, Sanchez self-submitted for "The Hunger Games." Knowing the film would require a lot of stunts, she reached out to the stunt coordinator and second unit director. "It was just my luck that they needed people who could act and do their own action scenes," she says.
Be ready for anything.
"You never know when a door is going to open, so you better be ready when it does," says Sanchez. She works out six days a week, although she notes she's careful not to lift too many weights since most of the stunt work she books is doubling for actors who aren't bulky. "It's kind of like you want to maintain a constant level of physical fitness so that when you do get the call you're ready to jump right in. If you get a call for something specific then you know you will have to go out and train for it, or if it's on a larger scale then the production and the stunt department will begin training you for it." This was the case with "The Hunger Games," where Sanchez says everyone was brought in and trained on how to use various types of weapons. Sanchez had never worked with weapons before but enjoyed learning from the stunt team and fight coordinators who taught the cast how to use them. "They wanted us to be prepared for anything because we didn't know exactly what scenes we were going to be shooting and what was going to be involved, especially with the action scenes," she says.
Keep training.
Besides a physical fitness routine, Sanchez also ensures her acting skills are honed and ready to go. In addition to continuing her training, on-set experience has been invaluable to Sanchez. "There have been times on set where I had to perform a stunt and it was the first time I'd ever done it, but I was hired because I have a certain physical ability, so it's kind of expected that you're a fast learner and you will be able to do whatever they ask of you," she says. "It's a really tight-knit community, and for the most part, people are really willing to teach you things and even go out in the backyard and train."
Learn from your mistakes.
Although stunt doubles are frequently taken for granted, since, if they are doing their job correctly they aren't noticed in the film, the work they do can be dangerous. Sanchez says for her, it's not scary, but exciting. "You get an adrenaline rush—you're just in the mindset. If I do it the right way, yes, I'm probably going to get bumps and bruises, but I'm not going to get seriously injured." But injuries are bound to happen. Sanchez says the worst injury she sustained was a severely sprained thumb from falling off the porch with another stunt double. "I had my thumb around his arm [when we landed], and that was a lesson for me to never separate your thumb from the rest of your fingers. Always keep it with the rest."
Don't be pigeonholed.
"I think a lot of casting directors don't see you the same way because they're like 'Oh, she's just a stunt double.'" Sanchez notes that sometimes they are correct. "Sometimes some stunt people have just been on set so much that they're like 'Oh, I could give this a try,' but I think there's a lot more to it. You have to have training and learn from the right people and that takes years. It's not something you can just decide you want to do overnight." While Sanchez loves the action-oriented roles, as an artist she says, "I love to explore all different kinds of roles and all different kinds of characters. I don't want to typecast myself into only being able to do one thing. It's important to put yourself out there for all different things to show that you're capable of doing it."
Don't give up.
"It's so hard, but don't be put off by rejection. This is a business where you're going to be rejected every day. If you let it affect you and bring you down, then you're going to be a miserable human being," Sanchez says. Instead it's important to focus on every opportunity for auditioning and then let it go when you leave the room. "You don't know when that phone call is going to come, but as long as you don't give up, it's going to come."