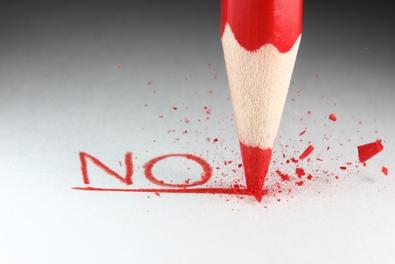 As you may or may not realize, show business is highly competitive. There are many actors out there, and all of them want an agent and/or a manager to sign them. If you are one of the lucky ones who have such representation, here is a list of ways to make sure you blow it.
1. Be extremely selective in what roles you will audition for. You think you're too old. You think you're too young. You refuse to play gay. You refuse to play straight. You don't believe in the "message of the project." You are a vegan and there are meat-eaters in it. There are not enough lines. You don't think the project is high profile enough. You are not "feeling it." You don't think you are "100 percent right." You won't use profanity. Ignore the fact that your agent/manager submitted you, pitched you to casting, and got you an appointment time. Surely you know better.
2. Be unreliable. When your rep gives you an appointment time of 4:20 pm, it is only a rough guideline. It is perfectly acceptable to show up at 5:10 pm. It is not your fault – there was traffic. Refuse to leave your house early. You will be bored if you get there too early and have to wait. Cancel at the last minute or just don't show up at all. You forgot that you had a test and can't make the audition. Ask if they can see you at your convenience. Perhaps sometime next week?
3. Be unavailable. Book yourself on as many student films, $25 music videos, and free community theatre as you possibly can. You need to stay busy at all times. We completely understand when you are unavailable for high-paying work. We are not in it for the money, only the love and accolades we get from our clients.
4. Bring friends and family to auditions. Auditioning is a social event. Casting directors expect this and thus have giant waiting rooms to accommodate you and your entourage.
5. Stay in touch every day. Every. Single. Day. If your rep does not receive multiple calls and emails every day they will forget you. Panic if you do not hear back every time.
6. Get paid directly and keep it a secret. Wait until your rep has called the casting director, advertising agency, and the production company looking for the payment. We enjoy doing that and then hearing that you received the check at home a month ago. Take another month or so to mail out the commission check. We know you're busy. We can wait.
As ridiculous as those actions are, I have experienced all of them in my career and so have all of my manager and agent friends. Rest assured that there are hundreds of people who will gladly take your spot in that agency. Trust us, work with us and it will be a profitable and enjoyable partnership.
Jackie Reid owns and operates L'il Angels Unlimited, a talent management company, which specializes in young actors for placements in film, television, theater, commercials, voiceover, and print media. She works extensively with agents in New York and L.A. She possesses an excellent eye for talent that both casting directors and agents value. She understands what it takes to support young actors as a stage mom to two children, one of whom currently plays Sinjin on Nickeldeon's hit series "Victorious." Follow her on Twitter @LilAngelsTalent and like her on Facebook.