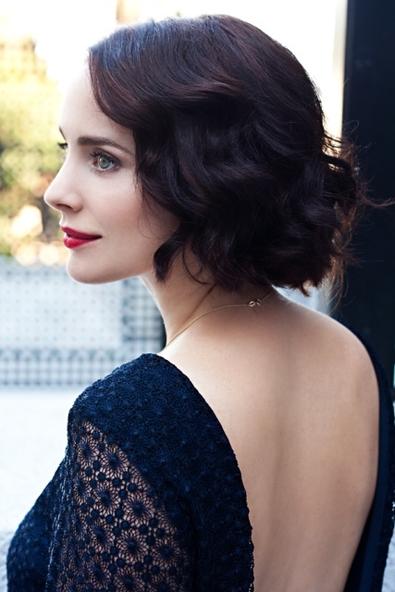 "It's like being the new kid at school," says Laura Fraser on joining the final season of "Breaking Bad." The arrival of her character, Lydia Rodarte Qualye, has kicked up the gravity on an already intense show. Fraser says she joined the series "totally blind." Having just moved to the U.S., she'd never seen the show (she caught up in about a week) and wasn't aware of Vince Gilligan. Very few details were given regarding her character, and her audition scene wasn't even from the actual show. The writers had written special pages in order to keep all the story details under wraps. The scene was intriguing and provided enough insight into the character to hook Fraser, though. "The character was just absurd and just so uptight and headstrong and smart and cunning and broken," she says.
The Scottish actor fits seamlessly into the show, with her character currently hatching a plan to expand the meth distribution internationally. Although Fraser may not know if her character will survive from week to week, she's making her mark on the show and offers some tips she's learned for surviving in the acting world.
Develop your character.
Without a lot of time or information, it can be difficult to find a character. Fraser says she didn't have a lot of time to prepare for Lydia, but she knew in the first episode she'd be very frightened—Lydia had a gun to her head. "So in my mind, I would be going through all the things that I was frightened of…and my breaths would kind of come from a higher place rather than a deep, slow breathing," she explains. "It would be like really fast breathing and I honestly felt like my heart would sometimes beat faster when I was playing Lydia because she's so tightly wound." Bringing the fear and nervousness to her character came easily for Fraser. "I can be pretty scared sometimes myself," she adds. "So that part, actually, I didn't have to reach too far." As for the powerful, in-control aspect of Lydia's personality, Fraser says she didn't really have to work to create that either—it was all in the script.
Do whatever works.
In the episode "Dead Freight" in which they rob a train, Fraser had a challenging scene with lots of dialogue and information. "It was like 20 pages of dialogue and I got it like four days [before], and there were so many details and logistical information," says Fraser. Since memorization is not Fraser's favorite aspect of acting, she was stressed over learning it all. Fraser has recently started using a different technique to learn her lines, which consists of going out in the woods near her home and just talking to herself with the sides. "I'll just work on them every day. If I have a couple of days, 20 minutes a day. If I have less time I'll do like an hour and then have a break, and then do another hour. I have to walk; the rhythm of moving really helps you learn, and all of a sudden you get ideas when you're moving," she says. This technique is a little more challenging when Fraser's not able to walk outside. "[In the city] I just look like a mad lady talking to myself and learning these lines…'cause it gets so unbearable sitting at a table trying to learn lines, I hate it," she says.
Embrace auditioning on tape.
Fraser is not a fan of auditioning so she loves that it's so easy to put yourself on tape now. In fact, that's how she got her role in "Breaking Bad." "I didn't even meet anyone. I just did a take in my apartment and sent it," she says. For Fraser, putting herself on tape takes away some of the stress. "There's not the competition aspect because you don't see everyone who's [auditioning], and you can take your time and get it right and the way it's good for you," she says. Luckily, Fraser says she has her husband to read with her so she can do the self-tape auditions easily. Without the pressure of small talk before the audition, Fraser says "It's easier to just get in character and go for it and you can have a proper break in between scenes."
Trust your instincts.
When choosing which projects to go in for, Fraser says it can be difficult since an actor typically only gets a few pages, often making it hard to tell what the character is like. "I just trust my instinct and if I don't respond to something, then I just don't audition for it, because there's no point. It would be half-hearted and I've wasted my time and wasted everybody's time. And the competition is so fierce that unless you're actually into something, there's no point," she says.
Be enthusiastic.
Actors spend so much time looking for work and dealing with rejection, but Fraser says what really matters is how you respond. "[Winston Churchill] said 'Success in life is maintaining your enthusiasm as you go from failure to failure.' And that just made me so happy when I read that, I just said 'Yes.' That's what success is," she says. "That in a nutshell boils it down for how I managed to stay alive."