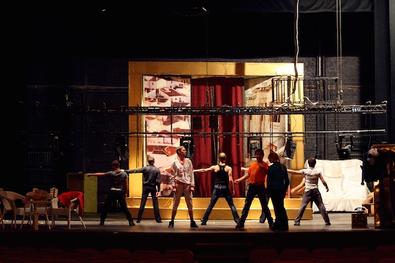 You've had a hard week. Reward yourself by doing what you love! Here are six auditions to keep the "working" in "working actor."
"SUPERMOM"
This short film production shooting late October/early November and based in New York City is looking for a leading lady to play Katie, a widowed, single mother trying to raise a special needs child alone, as well as a child actor for the role of Connor, aged 6–9; both characters are of Asian descent. This casting notices comes with a downloadable PDF with the sides to prepare for your audition. Be sure to include a video in your submission!
LIVE CORPORATE EVENT, JAMES BOND
Throw on your best suit and audition for this role to possibly have the chance to deliver that famous line: "It's Bond. James Bond," at a live corporate event. Date is TBD but email your headshot, résumé, and photos and a video of you in your best Bond getup and persona.
"DOCTOR ZHIVAGO"
Young New York actors: Gear up for this Oct. 27 audition to be in the part of the classic musical about a surgeon-poet and the love of his life, Lara. This Equity production is seeking two young females and one male. Actors of all cultural backgrounds are encouraged to attend. For your audition be sure to prepare a contemporary musical theater song and bring sheet music! As always, a résumé and headshot should be brought (and stapled together)!
IMPACT REPERTORY THEATRE AUDITIONS
This Harlem-based, award-winning youth theater company seeks actors, dancers, and singers to participate in a company that "views leadership training and performing arts as a way to develop oneself and change the world in a positive way." While the season's slate hasn't been posted on Backstage, past productions include "August Rush" and "Peace Warriors." For the audition on Oct. 25, be sure to wear black sweats, a black round-neck t-shirt, and sneakers, and be prepare to learn choreography, a verse, and perform a piece of a poem to monologue.
"THE FIANCÉ"
This L.A. feature film is casting a male and female lead to play a couple who's about to get engaged, but the proposal is interrupted when the bride-to-be is bit by Bigfoot. Yes, Bigfoot is about to get real. Both roles will be a physically demanding, according to creators. "The Fiancé" shoots in Los Angeles and pays $100/day plus meals.
"STROKING WOOD"
For those out there with improv comedy chops, this L.A. production is seeking two comedians to play in a "man on the street" type infomercial-interview series to sell a national product. Seeking both male and female comedians. "Stroking Wood" pays $200/day, plus transportation and meals. Auditions are Oct. 25 in North Hollywood. Be prepare to improv based on props, including the product being sold, and situations.