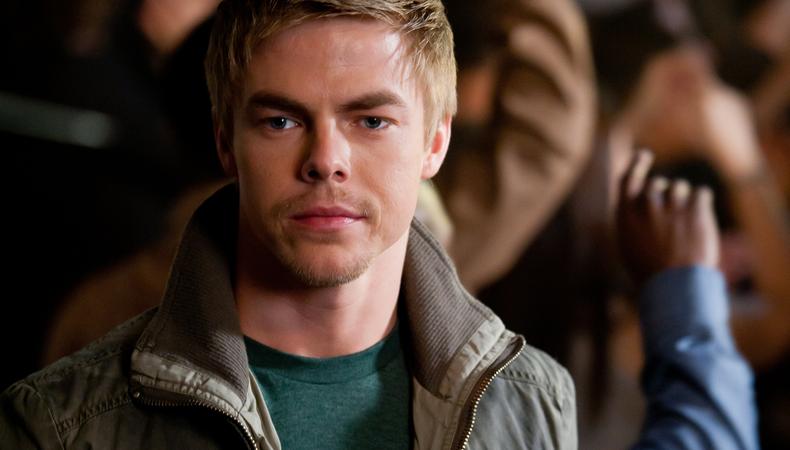 Derek Hough is dancing his way from the small screen to the big screen in "Make Your Move," the new movie from "Step Up" writer/director Duane Adler, which hits theaters today, April 18. The movie tells the story of two struggling dancers who fall in love despite the rivalry between their families. Adler found Hough when he was at a "Dancing with the Stars" taping to scout Nicole Scherzinger for a different project. He saw Hough and thought he'd be right for the role of Donny in "Make Your Move."
The long time "Dancing with the Stars" performer was excited to be acting in the film, but feels that acting and dancing are both expressions of creativity. "For me, it's all entertaining, it's all storytelling, and whatever outlet it is, it's all the same in that respect." He shares tips he's picked up performing across various mediums.
Go the extra mile.
"The character is a tapper, a hoofer, a street performer in New Orleans and I've never tapped before in my life," says Hough. "It was actually one of the things that fascinated me about it and excited me because I knew it was going to force me to learn a new skill." Although they offered to use stunt feet, it was important to Hough to do all the dancing himself. "I wanted every sound and every movement to be my own, and to be honest about it and to be true." Hough trained for two and a half months, but luckily, since he was a drummer, picking up the rhythms was fairly easy.
Don't let the downtime stress you.
One challenge for Hough working on "Make Your Move" was all the downtime in film. "It's like you're ready to go on, you're ready to do a scene, and then it's like, 'Oh we've got a problem with the cameras.'" Hough prefers to keep going nonstop. "I don't take breaks. I like to kind of keep going and keep moving, and for me, that was the most difficult part about it."
Training gives you freedom.
In addition to his dance training, Hough studied theater in London. The training helped to give him freedom in his acting and dancing. "It's really psychological, and [you learn] about yourself and being honest with yourself and true to how you feel in that moment." He's applied this technique to his acting, dancing, and choreography. "Whether I'm doing a routine where I want to move people, or if I want to feel moved myself, I definitely tap into those moments where it's not just dancing or movement. It might just be a hand gesture or just a slow look, or even just the way you slightly tip your head forward. These subtleties speak volumes."
Do what makes sense.
"It's funny. There was never a time in my life where I ever dreamed of anything in particular. I never dreamed of dancing on television or anything like that. It's more of things that come along that excite me and inspire me." He's going on tour with his sister Julianne Hough over the summer. "We love performing. We love connecting with people. That's definitely a huge passion, having that connection with a live audience. Whether it be through television, or through music, or through dance, or through film, whatever it is, as long as it's the right project that makes sense, then I'm all for it." Hough also has taken to writing and has a book coming out next month titled, "Taking the Lead: Lessons from a Life in Motion."
Follow what you love.
Hough stresses the importance of loving what you do. "And try to be honest with yourself and not just sort of fall into something that you think will make you popular, or you think that you'll get respect from," he warns. "Ask yourself the right questions, you'll get good answers."
Want more dance advice? Watch the video below:
Inspired by this post? Check out our dance audition listings!