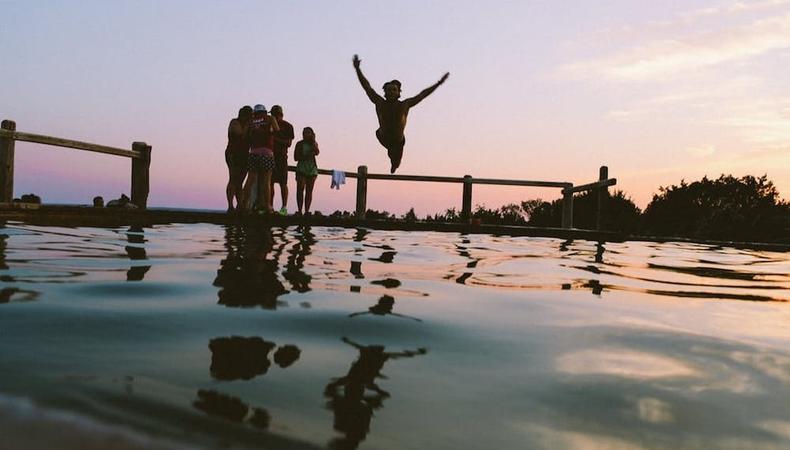 Last week, I told you why life is your greatest acting teacher. This week, I'm going to give you a few tips on how to embrace the process.
1. Welcome every opportunity for experience.
Life is filled with experiences, and so is every acting job! That means every chance you get to dive into life and the gifts it offers you, do it without hesitation. I made a promise to myself that if I was going to be the best actor I could possibly be, I wouldn't sell myself short when an experience that was either out of my comfort zone or out of my scope of reality. I knew if I was going to create dynamic, believable characters, having the insight to every human experience I could possibly have was going to be a significant component of that becoming a realization. I urge you to do the same. Engage all of your senses in what life offers you every day and use it to create award winning acting.
2. Use relationships to power your performance.
As actors, we're always experiencing relationships to someone or something. This is a powerful asset to your acting instrument. Superimposition, the concept that involves imposing someone in your life onto an actor/actress you're working with, is one way to do so. If you want to take it up a notch, let me introduce you to what I call vibrational superimposition. All this means is taking the vibrational essence—how that person truly makes you feel—of your mom, dad, spouse or best friend etc. and imposing it onto the actor you're in a scene with.
READ: Presence: What It Is, How to Get It + Why It's Vital to an Actor's Success
Instead of just pretending it's your parent or spouse in a scene, you bring the entire vibrational dynamic of that relationship to the relationship with your scene partner. Because vibrations are beneath the surface, you're still tuned into the authenticity as well as the interaction of the other actor on a surface level. The same goes with relationships to objects and places. Connecting to the vibrational essence of that object or place can be used to transform a scene into something truly powerful, as well as giving you something fresh and innovative for the scene you're performing in.
3. Study people are who nothing like you.
This is another significant aspect of using life as your greatest acting teacher. I make it a habit of trying to meet and befriend people who are absolutely nothing like me. Whether it's traveling to a new country or visiting a place I've never been, it all makes me a greater actor and performer. This is one of the most effective ways to evolve for stage and camera acting.
Anyone who is different than you, learn about them. Hollywood will make a film out of just about anything and you have to be ready when your opportunity shows up. Refuse to wait until you get the role to do your research, start now! When you can find out the driving force in a person's life, whose life differs from yours, you enhance your acting instrument and develop what every actor needs to for successful, complete human awareness.
Shaun Grant is a dynamic "entreperformer" that is a recognized authority in personal performance and transformation. He is the author of "Prosperity Secrets: How To Live the Life of Your Dreams." He is also the creator of The Vibrational Actor and hosts his own podcast called The Actor's Area. Shaun has been acting, writing, and coaching for the past ten years. He teaches the concept of vibrational acting and vibrational consciousness to performers around the world. His soul purpose is to inspire, uplift and motivate actors through cutting edge mental and spiritual practices. He's at his happiest when his students experience successful breakthroughs in mind, body, and spirit as it relates to their acting careers. Shaun has acted in over forty projects, working alongside some of Hollywood's brightest stars, and has written and produced his own projects as well. When Shaun isn't acting, writing or coaching, he enjoys engaging in his love of travel and creating life-changing content through his blogs. Visit www.shaungrantacting.com and www.uplifterentertainment.com for more career information. Find Shaun on Facebook, Twitter, and Instagram.
Ready to make your presence known? Check out our short film audition listings!