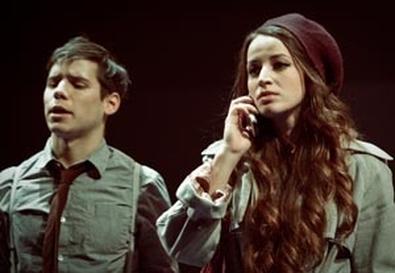 The debut production of AENY-El Puente (Spanish Artists in New York), a collective of multidisciplinary artists merging Spanish traditions and modern New York culture, "Wearing Lorca's Bowtie" is a sincere, impressionistic, sometimes static, yet often powerful portrait of the lonesomeness of life in New York City.

Inspired by a collection of poems and letters written by revered Spanish playwright and poet Federico García Lorca while he was a Columbia University student in 1929-30, the moody show emphasizes how Lorca's experiences and feelings about New York parallel the emotions and motivations of solitary artists in New York today. Its driving forces are the fears, anger, frustration, excitement, disgust, and sense of individual freedom that living in New York triggers.

The show's disconnected story (by Josh Hecht and Mar Gómez Glez, with text by Glez and Judith Goudsmit) is told largely through excerpts from Lorca's letters and disturbing image-driven scenes, played mostly without words, derived from his poems. The wide-ranging emotional essence of the work, however, is best conveyed through the luscious music that underscores most of the evening and takes center stage during its dramatic highpoints. Composed by Javier Moreno and played live by a jazz trio of piano, bass, and drums, it screams New York after dark in its soothing rhythms, piercing harmonies, and smoky nightclub style.

Helmed by Hecht and Ignacio García-Bustelo, the production makes astonishing use of aerial work (performed by Carlos Renedo) in a scene about the 1929 stock market crash and also offers some biting comedy, thanks to actor David Riley's amusing portrayals of a Columbia University tour guide, a multitasking translator, and a young guy honestly explaining that most people move to New York just to get away from their families. Yet the show hits a deadly stride in an overextended masquerade-party scene, an interminable sequence in which a woman is put at a table and served a chicken, and Sebastián Gálvez's stumbling delivery of the opening monologue.

The tall, rolling metal scaffolding units of Robin Vest's set work wonderfully to suggest the looming architecture of the city and the small cubbyholes we inhabit within it. And visual artist Nuria Rabanillo provides a potent illustration of the company's commitment to multidisciplinary work as she paints a surrealistic picture on an onstage canvas while we listen to an all-too-timely diatribe against Wall Street.

Presented by AENY-El Puente (Spanish Artists in New York), with the support of the Consulate General of Spain in New York and the Spanish Embassy, at the Duke on 42nd Street, 229 W. 42nd St., NYC. Dec. 8–17. Mon.–Sat., 8 p.m. (Additional performance Sat., Dec. 17, 2 p.m.) (646) 223-3010 or www. dukeon42.org.