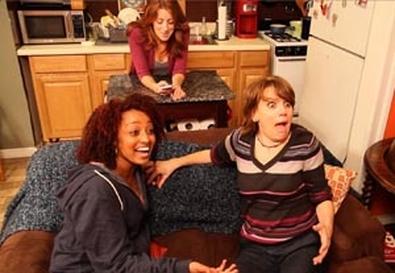 Kate Wetherhead and Andrew Keenan-Bolger, "Submissions Only"
The theater community has embraced Kate Wetherhead and Andrew Keenan-Bolger's actor-centric Web series "Submissions Only," and guest stars Kristin Chenoweth, Rachel Dratch, and Chita Rivera are only the start of the show's A-list talent. But despite their fame, these actors still look to Wetherhead and Keenan-Bolger for advice.
"You would think at a certain point people stop looking for direction, and it really has not been the case," says Keenan-Bolger, who created, directs, appears in, and writes the show with Wetherhead. "You sort of don't expect that. Us giving direction to these ridiculous Tony winners is always sort of mind-blowing."
The show's high-profile guest stars also exemplify the tight-knit nature of the theater world, as Wetherhead and Keenan-Bolger filled all the roles with friends and acquaintances. Ironically for a show about auditioning, the creators have never auditioned anyone. "We go through our mutual friends on Facebook," Keenan-Bolger says of how they cast the first season. "The world needed to see how talented some of these people were."
For the second season, which airs exclusively on
BroadwayWorld.com
, the duo asked a local casting director for help. Officially the show has no casting director—aside from the fictional ones on the series.
However, casting directors, directors, and writers have reached out to the team for a chance to be on the show. "I think it's funny that this is the acting opportunity they want," says Wetherhead, who also stars as down-on-her-luck actor Penny Reilly. But you won't see these creatives playing themselves. "That's one of our rules," Wetherhead explains. "If you're not an actor and you are on the show, you can't play what you do."
No casting director is attached to the series at this time. Email submissionsonly@yahoo.com to inquire about casting opportunities.
Ned Ehrbar, "Co-op of the Damned"
It's dangerous to be an actor sometimes. "One of our actresses accidentally ingested fake blood," says Ned Ehrbar, creator, writer, and a director of "Co-op of the Damned," a sketch comedy Web series about a haunted apartment building. "One was handcuffed to a chair and we couldn't find the key."
The series just completed shooting its five-episode second season. Ehrbar shoots the show episodically and uses a casting director to keep up with the demand for new characters. Casting director Jonathan Groce also proved helpful when Ehrbar had to ask actors to appear nude—a tricky situation, especially for a low-budget Web series. "You're just very up-front and respectful and clear," Ehrbar says, "and try not to pull the rug out from under them at any time during the negotiations."
Although Ehrbar writes the show, it relies heavily on improvisation, a skill he looks for in all his actors. "I write sort of a very basic description of what's going to happen, and then the actor fills in a lot of the blanks," he explains.
To stay on track, Ehrbar storyboards every episode. "We take the individual panels and put them on a big board somewhere on set," he says. "We tear them off as we finish them. As long as we get that done, then anything else that anyone comes up with is fantastic."
To contact Jonathan Groce, the casting director of "Co-op of the Damned," email jgroce724@gmail.com.
Sean Becker, "The Guild"
"The Guild," created by and starring Felicia Day, is the poster child for successful Web series, but director Sean Becker still has plenty of competitors. "Our competition is not only other Web series but also viral videos on YouTube," he says. "With sites like Hulu and Netflix, now we're competing with actual TV and actual film."
The popular show—its YouTube channel has more than 300,000 subscribers—chronicles the escapades of a group of online gamers, and Becker, who won the 2010 Streamy Award for comedy directing, has been with the series since Season 2. After five successful seasons and a partnership with Microsoft, the show has the luxury of a production crew, which gives it a competitive edge.
Despite its success, however, "The Guild" is confined to a tight budget. The creators have only about 14 days to shoot a 12-episode season; that's eight to 11 pages a day. "From a directing standpoint, I would love to shoot episodically, because then you get to focus on that single moment," Becker says, adding that he shoots the show as he would a feature film. "But that's not practical."
There are no rehearsal days before the shoot, and all the extras work for free. Luckily, fans of the show don't seem to mind. "They have actually created their own group called the Guild of Extras," says Becker. "They've bonded being fans of the show and being on set while 'The Guild' is being made."
The casting director of "The Guild" is Helen Geier. No contact information was provided for this article.
Scott Brown, "Asylum"
Scott Brown lies to his actors. Well, not technically. The director of "Asylum" keeps the show's mysteries alive by hiding plot points from the actors, thereby generating a more truthful reaction in them. "Because the actor doesn't know, it causes this interesting need to find out in their character," he explains.
Directing a psychological drama was something of a mystery for Brown himself. As a writer and director specializing in comedy, he met "Asylum" creator Dan Williams while they were studying screenwriting together at the University of Southern California. Brown took the opportunity to direct drama as a way of challenging himself and growing as an artist.
But drama is a challenge for another reason as well. "If people go to the Web, they've got five minutes and they want to laugh," Brown says. "It's hard to get a five-minute fix of drama."
"Asylum" recently partnered with BET.com for the show's second season and will have a larger platform to help give it legitimacy. "We try to develop an audience who's willing to make a commitment to the arc of all the episodes," Brown says. "Drama is a great storytelling medium, and there's a place for it on the Internet."

While BET picked up "Asylum" as an exclusive Web series, no casting director is attached to the series at this time. Creator Dan Williams is available for inquiries at dan_williams@mac.com.