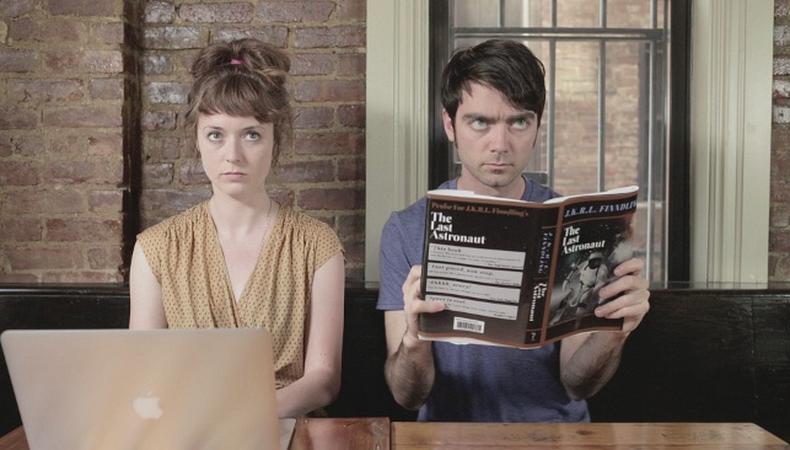 When couples get engaged, it's not often that before committing to spending eternity with each other, they decide to sleep with as many people as possible. But that's what Greg (Branson Reese) and Amelia (Adelind Horan) do before they go to tie the knot. They were each other's first and only, after all.
So to keep their relationship intact, they make a series of guidelines. But every time one of them is about to seal the deal, one of their rules gets in the way. Limitations to their sexual escapades include no sick people, no celebrities, no doing it where they currently live, no people they know, no going more than 24 hours afterward before sleeping with each other, and no one less sober than their prospective partner.
Ted Day and Benjamin Wright Smith, Horan's partners in the production company OFCLOUDS, took turns writing out Greg and Amelia's thwarted dalliances. Horan, Day, and Smith work regularly together, usually creating short films. They precast Reese as Greg before the scripts were even fully written because of his improv background; he's a regular performer and director at New York's Magnet Theater, among other credits.
"We didn't just want to go off-script. We wanted to work with half-improv, half-loosely scripted jokes," Horan explains.
"Working with friends makes a project more attractive," Reese adds. "It's a much more relaxed atmosphere. It's less of a shot in the dark of, 'Do you even like me?' Having worked with them before, I know the vocabulary of what it's like to be on their set. I know when it's time to goof around and when they're politely telling me to shut up."
Horan says it doesn't hurt that her co-star plays into OFCLOUDS' "out there" sense of humor, something she says they toned down for "The Pioneers."
The rest of the series was cast from the OFCLOUDS crew's network. "I was really excited about the casting process because I wanted to give my friends who I enjoy working with a chance to play an exciting character," Horan says. "I've met so many people through taking UCB classes and doing theater since I've been in New York. As soon as a character was written, I had people in mind for each role. We would do readings, but we would cast among our friends."
Despite the fact that "The Pioneers" is a comedy, Horan didn't shy away from people she met working on dramatic projects; she wasn't sure if they could play the desired tone but had enough faith in their talent to cast them anyway and find out.
Are there downsides to working exclusively with friends? "There might have been guilt for a cold day of filming," Reese says, remembering a winter shoot that included his Magnet Theater buddy Jimmy O'Connell, aka the Beard, as he's known in "The Pioneers." The Washington Square Park–set shoot was so cold they only filmed for five minutes at a time, running into a nearby Starbucks for warmth. "It's hard to film comedy when you can barely move your face," Horan says.
Like this story? See more of our Now Streaming articles here!