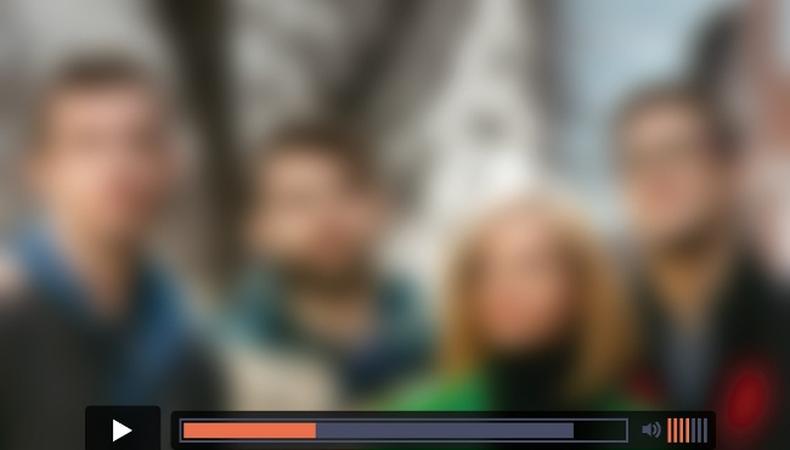 Fall TV isn't just about the tube. Internet-based platforms—outside of the Netflix, Hulu, and Amazon juggernauts—are coming out with great series. Here are the Backstage staff picks of what you should be watching on Seeso, Vimeo, YouTube Red, and ABC's digital arm, ABCd.
SEESO
"HarmonQuest"
Good thing Dan Harmon maintained a post-"Community" relationship with NBCUniversal. In July, the writer-producer debuted "HarmonQuest," his part-live-action, part-animated, completely improvised web series featuring talented comedians and special guests playing fantasy roleplaying campaigns for an audience. It's as innovative as it is off-the-wall. Bonus: Guests include Paul F. Tompkins, Aubrey Plaza, Kumail Nanjiani, and more. —JACK SMART
"Take My Wife"
If you're a fan of standup comedian Cameron Esposito and her cheeky "Ask a Lesbian" web series, then "Take My Wife" is for you. A semiautobiographical portrayal of series co-creators Esposito and her comedy partner–turned-wife Rhea Butcher's life in Los Angeles, the series is honest, heartfelt, and most importantly, hilarious. Brimming with Esposito's trademark knowingness and sly commentary on being an entertainer who's gay in the modern day, "Take My Wife" will hit particularly close to home for working actors and other entertainers. —BENJAMIN LINDSAY
"Flowers"
A great dark comedy is a welcome addition to the Seeso slate, and writer-director Will Sharpe's "Flowers" delivers. Set in the countryside of Surrey, England, the series stars Emmy nominee Olivia Colman and Julian Barratt as a married couple whose zest for life has calcified. They're parents to two adult children, a failed inventor and an unsuccessful artist who still bicker like teenagers. Adding to the tragically disconnected family dynamic is their Japanese live-in illustrator Shun (Sharpe). It's a bitingly funny, screwball mix of personalities that makes for one hell of an entertaining show that was just renewed for a second season! —BRIANA RODRIGUEZ
VIMEO
"lonely and horny"
Fans of CollegeHumor's "Jake and Amir" will love this new series from Jake Hurwitz and Amir Blumenfeld, but be warned: they're no longer playing their overly awkward selves. "Lonely and Horny" finds the creators in bolder, raunchier territory, with Blumenfeld starring as a sex-crazed, neurotic bachelor and Hurwitz as his dating coach. The laughs are constant. —JS
"The Outs"
This hit web series from Brooklyn-based writer-director Adam Goldman premiered its much-anticipated second season on Vimeo this summer, and if you haven't caught it yet, fans of the series new and old will not be disappointed. When it first hit the web in 2012 (Season 1 is still available for free at theouts.com), the crowdfunded project struck a nerve for any millennial—gay or straight—who's been in love in the modern age. It's a refreshing take on the gray area of the boy-meets-boy, boy-loses-boy narrative with a stellar cast. —BL
YOUTUBE RED
"Single by 30"
Whether or not you're over 30, single, or both, this YouTube Red and Wong Fu Productions original will resonate with you. With sharp insights into modern romance and friendship, plus a charming (and attractive!) cast that includes Harry Shum Jr., Kina Grannis, and YouTubers Eric Ochoa and Ryan Higa, "Single by 30" is a bittersweet delight. —JS
"Escape the Night"
"Most of the YouTubers on the show will die," multihyphenate vlogger and creator of "Escape the Night" Joey Graceffa said this summer. Graceffa, who has over 6.8 million subscribers on his YouTube channel, stars alongside some of his internet-famous contemporaries like GloZell, iJustine, Lele Pons, Shane Dawson, and Sierra Furtado. The "Clue"-esque series, pegged as "a dinner party to die for," follows 10 entertainers who travel via a time-machine mansion to the 1920s for some whodunit fun. —BL
"Foursome"
A YouTube Red original for the Generation Z crowd, this high school–set dramedy reminiscent of Disney shows like "That's So Raven" (without the magic) and "Boy Meets World" (minus Mr. Feeny) follows a group of friends and protagonist Andie (Jenn McAllister) as they try to find romance before graduation. The episodes run just over 20 minutes and also feature Vine star Rickey Thompson, Brooke Markham, and Logan Paul. —BR
ABC DIGITAL
"Boondoggle"
Ty Burrell has two Emmys to his name for his work on ABC's "Modern Family." The network has now produced a web series based loosely on his life, that of a struggling actor whose big break on a hit show affects his friendships in hilariously unfortunate ways. Starring Mel Cowan, Johnny Meeks, Joel Spence, and Burrell as a (hopefully) fictional version of himself, "Boondoggle" provides rollicking good fun. —JS
"Forever 31"
Iliza Shlesinger's "Forever 31" quickly established itself upon its premiere in July as reliably raucous scripted programming. Those who enjoy the Shlesinger brand, made famous on "Last Comic Standing" and hourlong standup specials, get that and then some from this streaming miniseries. It follows a 31-year-old Shlesinger as she and her friends learn about the absurdities of adulthood the hard way through dead-end jobs, dead-end dating, and (to cope with it all) dead-end drinking. —BL
"Newborn Moms"
This comedy series told from the perspective of new mothers tackles all the ins and outs of being parents to an infant, from being unable to unplug from the baby monitor after a full box of white wine to unblocking a blocked breast. Episodes serve as relatable doses of hilarity for any new parent. —BR
Inspired? Check out our television audition listings!