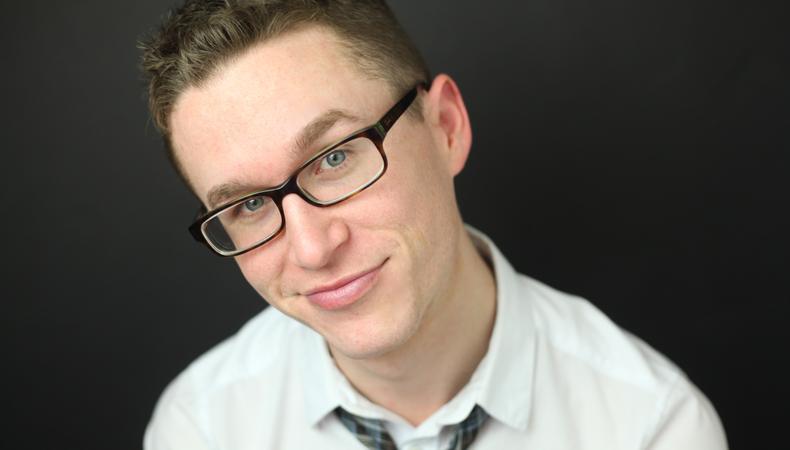 You probably wouldn't recognize actor Wade Dooley if you ran into him on the streets of New York. But thanks to his popular theater-themed web series "PZAZZ 101," he's gaining recognition as Mary Shennanbargger, a zany acting coach who works with some of Broadway's finest. The seven-episode first season featured stage stars like Marla Mindelle, Rachelle Rak, and Wesley Taylor. Season two boasts even more big Broadway names, including Donna McKechnie, Will Swenson, Jill Paice, Jeremy Kushnier, Jim Walton, Beth Leavel, Laura Osnes, Kyle Dean Massey, Tony Yazbeck, and more.

Backstage chatted with Dooley about embodying the character of Mary, the benefits—and financial perils—of creating a web series, and dressing in drag in his character's unique costume.

How did you develop the character of Mary Shennanbargger?
Wade Dooley: I've always loved to do voices, and I've always loved "Saturday Night Live" and "MADtv."

But I was doing a production of "Cats," and we would sit for about 45 minutes before the show and put on makeup. And one night, I started talking in this voice, and I made up a fictitious fight between me and the director. In this fight, I was not asked to choreograph the show, and I had a lot of ideas about how it could have been better. So from that, Mary was born. I moved to New York about two years after that and I ended up taking a class about developing a solo show. A three-minute show turned into an hour-and-fifteen-minute show that I ended up doing at the D.C. Fringe Festival and with Prospect Theater Company in New York City.

Did you ever have an acting teacher like Mary?
Dooley: I've had many teachers that were like her. Anybody who's ever taken an acting class finds themselves thinking at some point, "What in the hell is going on?"

How did you develop the show into a web series featuring actual Broadway actors?
Dooley: After we did the live show, we decided to start making web episodes to try and gain a following for the character, because eventually we'd like to do a live show in New York one night a week, or Off-Off-Broadway. We thought, "Why don't we have Broadway celebrities work with Mary as though she is an esteemed acting teacher?," and it just kind of snowballed from that. The first season, we had some really great people like Marla Mindelle and Rachelle Rak, who have been on Broadway and have been in the business for a while.

Is there a script for each episode, or is the series completely improvised?
Dooley: We basically script the process of the person being there and decide whether Mary has worked with them before. Then we work off an outline. I talk to the actors a little bit beforehand, but for the most part, some of these people don't meet me as Wade. They meet me as Mary.

So the actor enters the room and you're already in costume?
Dooley: Right. Well, I talk as me, clearly, when we're off-camera. I don't do the whole Andy Kaufman thing. But sometimes I run into people on the train and I have to go up to them and say, "Hey, it's Wade. I play Mary."

Have you ever started a scene going in one direction, and then the improvisation took it to a place that was completely unexpected?
Dooley: Yeah. We filmed an episode with Jeremy Kushnier and Will Swenson, and Will was coming up with crazy ideas and we just went with a lot of it. He started smoking a cigarette in the middle of filming the scene. I thought, "Oh God. The smoke alarm's going to go off, and we're never going to be invited back here." But that's what's fun about it, is the spontaneity.



What are the origins of Mary's rhinestone-studded denim jacket?
Dooley: That jacket was my mom's mom's; she's still around. She's kind of a hoarder and she keeps everything. And I guess I'm thankful that she kept that, because it's become a staple. I remember her wearing that jacket in the early '90s.

What type of commitment of time and money does it take to make a web series like this?
Dooley: We shoot with two cameras, so I pay two camera operators. I have to pay for external hard drives to hold all the material. We have to rent space. And we did the second season on a SAG New Media Contract, so it's expensive.

And it's a big time commitment. I spend at least two hours working on the series every day. And it was more before we filmed, because we were trying to reach out to people and see who would participate. Filming, to be honest, does not take a lot of time because we only allot an hour with each person.

What has been your favorite moment in making the show so far?
Dooley: Getting to work with Donna McKechnie was really great. She's in the last episode of the season. It's fun to see people who are giants in this business be very fun, normal people—and basically work for no pay, and in something where they don't know how it's going to turn out.

Do you have a "dream" guest?
Dooley: I would love to do an episode with Patti LuPone. I would love for Mary to do an episode with Elaine Stritch and also work with Chita Rivera.

I think it's fun to also see Mary in a personal way, and see how she lives her day-to-day. With Donna McKechnie, we decided that Mary and Donna lived together for a short time, and they ended up becoming "frenemies"—because Mary feels that Donna stole her Tony Award.
To watch "PZAZZ 101," visit pzazz101.com or check out the series' YouTube page. New episodes are posted every Wednesday.