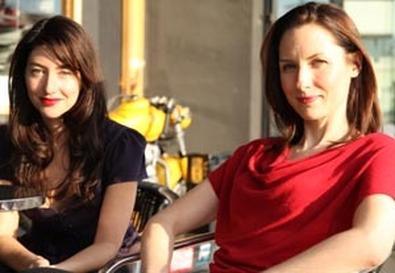 "Being an actor in L.A. and New York is so competitive," says Claire Winters. "It's really special to have relationships with actors where they know you're invested in their success too."
For Winters and pal Sarah Sido, their way to help fellow performers was by creating
Brains of Minerva
. The website is a mix of feature articles, event listings, mini-updates, and video blogs that offer constructive advice to actors. The key difference: The info comes from working actors like themselves who live the business every day.
The name Brains of Minerva is from a quote by turn-of-the-century performer Ethel Barrymore: "For an actress to be a success, she must have the face of Venus, the brains of Minerva, the grace of Terpsichore, the memory of a Macaulay, the figure of Juno, and the hide of a rhinoceros."
The spirit of helping others to find grace in a pressure-filled business is everywhere on the website.
"Something we stated from the beginning is that this is a peer-to-peer site. Though we are professionals, we aren't professionals speaking to you from on high," says Sido. "We always made it clear to our contributors that we are writing for peers."
Winters appeared on the soap operas "As the World Turns" and "Guiding Light" before getting a supporting role in the HBO miniseries "Empire Falls." Sido has done voiceover for films like "Team America: World Police" and video games such as "Grand Theft Auto: San Andreas" and "Metal Gear Solid: Guns of the Patriots." The two also have a business together as acting coaches.
They met in their teen years at Michigan's
Interlochen Arts Academy
, a performing arts boarding school. Both worked as actors in New York before moving to Los Angeles.
Sido introduced Winters to the concept of Minerva between cups of tea in March 2009. They decided that creating the website was a chance for them to both familiarize themselves with their surroundings and help readers do the same. The website was launched in September 2009.
"I was so excited about this collaboration because I was so new to L.A. at the time," says Winters. "I didn't have the community of collaborators I had living in New York after living there for several years."
Both live in L.A. now, so the website tends to have a West Coast focus.
Every week, they publish a new piece written by Sido, Winters, or one of their 60-plus contributors. Stories range from musings on the changing criteria for casting superhero characters to more-grounded articles like profiles of eager new comedians or interviews with publicists. So far they've published more than 160 articles.
"Something Claire and I do when we reach out to guests is help them find their expertise," says Sido. "We are very pro-actor." But they also allow people to explore new areas.
"I find the people that make up the Brains of Minerva community have lots of wisdom to share," says actor Kai Soremekun, who has written stories for the website. "I've grabbed a bunch of useful nuggets from reading the articles on their site."
With all their contributors, Winters and Sido maintain a rigorous editing process in which the writer must submit multiple drafts before the story gets published.
"When I'm working with a writer who doesn't know [a subject] and we identify it as something they want to know about, we support them through their investigation," says Winters. "They end up writing a piece that surprises them. To me, that is a really great feeling."
The website has attracted a certain amount of local renown. Says Sido, "I would be out at a party and someone would introduce me. I would mention I have this site to someone I haven't spoken to before and they would say, 'I read it all the time' or 'My friends read it.' "
Despite the attention they're getting for the site, the pair view it more altruistically.
"I saw Brains of Minerva as a way for me to develop more authentic bonds with something I love: acting and being an actor," says Winters.
Their contributors seem to agree.
"The type and quality of people that contribute to the site...really separate it from the slew of other blogs out there," says actor and contributor Cris D'Annunzio. "I think Claire and Sarah really get to the heart of what affects the actors who are out there every day slugging away."