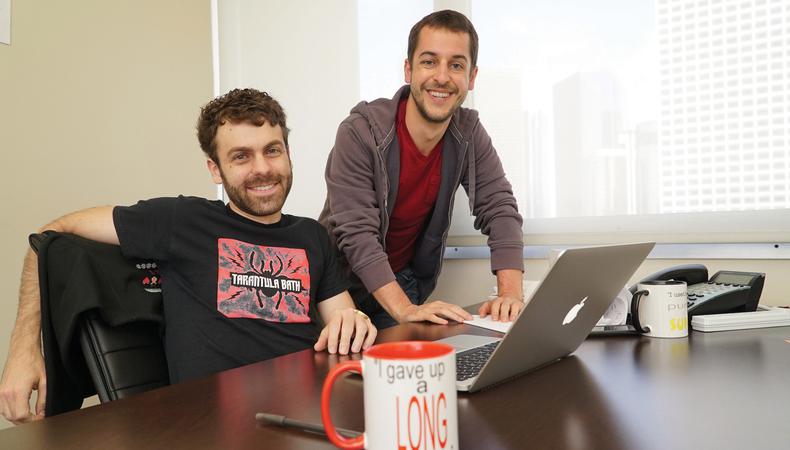 "Embrace your weirdness" may not be the first thing you think of when you think of a children's show lesson, but that's somewhat the point for the creators of "Bizaardvark," premiering June 24 on the Disney Channel.
"What Kyle and I love about the show is that the two lead girls feel very different for the Disney Channel," says co-creator Josh Lehrman. "The emphasis is on embracing your weirdness, and that's what I'm most excited about."
"We passed the Bechdel Test!" Lehrman's co-creator, Kyle Stegina, chimes in, his timing impeccable.
The two met while interning at Gersh Talent Agency—Lehrman in the literary department and Stegina in the comedy department—and worked side by side but never together as members of writing groups over the years. Eventually, they teamed up on a pilot that went nowhere, but did result in the beginning of a beautiful writing relationship. As Stegina puts it, "You need an emotional support partner. That alone is worth half your paycheck."
"It's very important to trade off in a writing team which one is going to be the calm one that day and which one is going to react," Lehrman adds. "Some days we come in after some rough notes and have to check the ledger: 'Whose day is it? Ugh, OK, I'll be calm today.' "
That emotional tradeoff worked its way into the duo's characters, as well. "Bizaardvark" is the story of best friends Paige and Frankie, whose viral music videos land them studio space in a YouTube-like environment filled with like-minded creatives. And though both Lehrman and Stegina cheerfully admit that they don't know how 13-year-old girls think, they do understand the intricacies of a creative partnership, and approached Paige and Frankie's story from that perspective.
They were also blessed with what they call the best cast on television—another process in which they were deeply involved.
"This was a really great opportunity, because we were allowed to be in every meeting. We had a lot of say and they respected our thoughts," Stegina says. "Disney, from what I understand, is one of the big players as far as giving younger writers a shot and following their vision. We went from 0 to 60 on this."
Both praise series casting director Sheryl Levine, who, very early on, brought in eventual lead Olivia Rodrigo. "The cool thing was Olivia was great and Madison Hu was great, but the first time they read together it was a whole different level," Lehrman recalls. That first read together also happened to be during the studio executives' session, when Lehrman says the general reaction to their immediate chemistry was, "Oh! We have a show!"
And all because the team's manager submitted a script "not in any way applicable to the Disney tone," as Stegina jokes, one that landed the two writers in the inaugural Disney Channel Storytellers program. "We were the wild card in the Disney program," Stegina says. Adds Lehrman, "The VP of Disney looked at Kyle and I and said, 'I'm afraid of you guys.' "
But with "Bizaardvark" the result of that program, there was obviously nothing to fear from these two!
Interested in starring (or having your child star) on the next Disney Channel series? Watch this video for self-taping tips!
Inspired by this post? Check out our television audition listings!