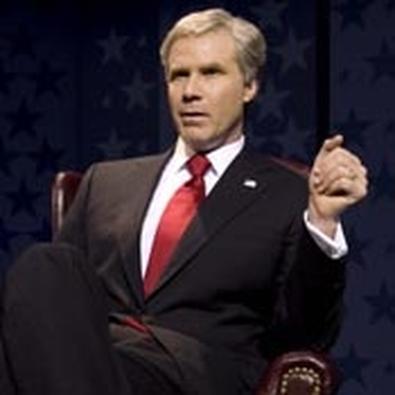 It's appropriate that the humor level is sophomoric in You're Welcome America: A Final Night With George W. Bush, Will Ferrell's combination standup act and extended comedy skit. After all, it satirizes the administration of the most adolescent chief executive ever to hold the office. Ferrell rose to fame partially thanks to his uncanny impersonation of the 43rd president on Saturday Night Live. Since leaving the series, he has starred in frat-level movies (Anchorman, Talladega Nights, Blades of Glory, Step Brothers) and the occasional more-serious film (Stranger Than Fiction).
In this 80-minute romp, written by Ferrell and directed at a flip clip by his frequent collaborator Adam McKay, the star keenly skewers Bush's incurious nature, Texas swagger, and loose relationship with the English language. The evening begins with Ferrell as W. lowered onto the stage from an unseen helicopter. He explains that he's been dropped into the "faggy theatre district" to combat his reputation as one of the worst presidents ever. Political correctness goes out the window as he labels his successor "the Tiger Woods guy" and the current leader of Iraq a "douche bag."
Most of the material is pretty silly stuff along those same third-grade lines. Ferrell even descends to body humor by flashing a photo of his genitals on a giant screen. But there are sparks of political insight along with the slapstick. Bush bombards us with facts and figures reflecting the ineptitude of his administration and then arrogantly defends each fumble, from the "Mission Accomplished" banner to the lame response to Hurricane Katrina. The basic concept of an unfettered Bush running off at the mouth is effective, and the star maintains the appropriate air of clueless entitlement. It seems a shame this is the only political commentary currently on Broadway and that there are few recent American plays or musicals directly dealing with the state of the union.
The highlight is a bit in which Ferrell parodies Bush's habit of coining nicknames for colleagues. The star calls on audience members to give him their names and occupations, then he comes up with a witty Bushian moniker. At the performance attended, when one theatregoer said he worked on Wall Street, Ferrell shot back, "I'm gonna call you Shit Outta Luck," and then topped it with "And it's not my fault."
There are brief silent contributions from Pia Glenn, shimmying seductively as a stripper version of Condoleezza Rice, and Patrick Ferrell (the headliner's brother) as a stiff Secret Service agent breaking into a break dance during scene changes.
This not-very-deep comedy is similar to what you can get on TV -- in fact, the last performance will be aired as a live special on HBO -- yet it's a fun and stress-relieving evening. But can anyone afford the ticket prices with the economy Bush has left us?
Presented by Jeffrey Richards, Jerry Frankel, Steve Traxler, and Home Box Office, in association with Gary Sanchez Productions and Bat-Barry Productions, Ken Davenport, Ergo Entertainment, Ronald Frankel, Jon B. Platt, James D. Stern, the Weinstein Company, Tara Smith/b. Swibel, Dede Harris/Sharon Karmazin, and Arny Granatat the Cort Theatre, 138 W. 48th St., NYC.Feb. 5–March 15. Tue.–Fri., 8 p.m.; Sat., 2 and 8 p.m.; Sun., 2 and 7 p.m.
(212) 239-6200, (800) 432-7250, or Telecharge.
Casting by Telsey + Company.