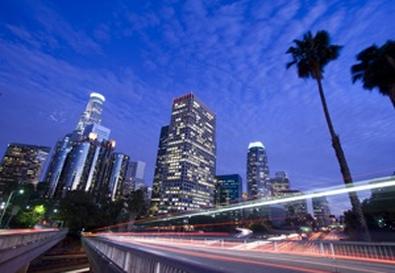 Dear New Angeleno,

In the 1977 film "Annie Hall" -- which, for you kids, is like "(500) Days of Summer" but good -- Woody Allen's Alvy says to Diane Keaton's Annie, of Los Angeles, "I don't want to move to a city where the only cultural advantage is being able to make a right turn on a red light."

Haters gonna hate. But every year bazillions of freshly scrubbed actors arrive in L.A. with their headshots, their Proactiv, and their dreams of making it so big that they one day get the chance to make fun of L.A. in a Woody Allen picture (or land a series-regular role on "NCIS: Los Angeles").

Perhaps you, dear reader, are one of those bazillions. To you, we say welcome. Also, we say it's time to get down to business. If you've got your Westside Rentals membership and know not to walk into Starbucks without your hair coiffed and your skinny jeans on, you're off to a great start. But there's plenty more you need to know if you're going to make it in this town. Thank heavens we're here for you.

Our primer on how to pass for a local will help you ensure that people will be shocked -- shocked! -- to discover that you're actually from a suburb of Kansas City. Our Career Dispatch columnists will give you the inside dirt on the best networking opportunities. We'll point out the hippest neighborhoods, the top hot spots, and even the premium opportunities for finding theater work. (Yes, there's theater here -- lots of it -- and some of it's even good.) Seriously, you're welcome.

Oh, and don't pay Woody any mind. He was just in town for the L.A. Film Festival, pimping his latest flick. Even the haters have to come here eventually.

-- Back Stage

How to Act Like a Los Angeles Native
New here from whatever town you were just too big for? Follow this advice, and you'll be blending with the natives in no time.

Screen Stars Jon Hamm and Calista Flockhart Make L.A. a Theater Town
Productions of "Red," "Other Desert Cities," and David Mamet's "November" give L.A. actors a chance to strut their stuff on stage.

L.A. Actors on Why to Live in Their Neighborhoods
Jesse Daley, Taryn Southern, and Lynn Chen discuss their L.A. neighborhoods.

Networking in Los Angeles
Theater companies such as Sacred Fools and Theatre of Note, as well as performances and classes, afford opportunities to meet other actors.

Five Essential Actor Hot Spots in L.A.
Whether attending auditions or looking for a place to unwind, here are five destinations you need to know in L.A.