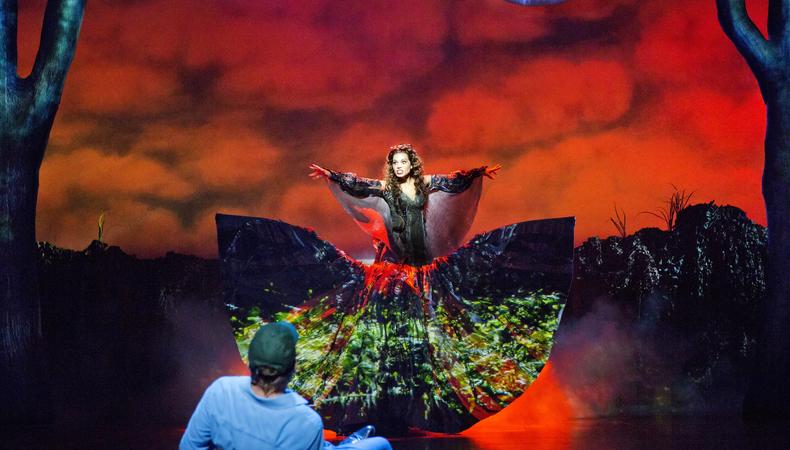 As I sat pondering all of the wonderful things that have happened to me the past few months that I could write about in this essay, the one word I continually circled back to was "dream." It was mine and my mother's dream that I would graduate college. It was my and my teacher's dream that I would land an agent from a showcase. It's been my dream since I was a little girl to live in the city that never sleeps (much like myself). And it is the dream of so many theater hopefuls to land a role in a brand-spanking new Broadway musical. This dream came true for me not once, but three times in a matter of a few days making me feel as if I've tumbled straight into an impossible dream that I hope no one pinches me out of! But the ultimate dream of any performer is the opportunity to work with such an unbelievable cast, crew, and creative team attached to this big-dream project called "Big Fish." I am ecstatic to be playing the Witch, an earthy gypsy-type fortune-teller, and I've spent a great deal of time preparing by watching the "Big Fish" movie, reading the book, and researching gypsies, fortune-tellers, and the like. I love to play roles that push the limits of imagination and that challenge myself and the audience and this witch's magic does just that!
This cast is stacked with some of the most legendary performers and other creative people Broadway has ever seen, which is one of the reasons why I chose to be a part of "Big Fish." But what makes this company and what has made this experience so astonishing is the fact that every person involved with this project is humble, loving, and ready to help one another at a moment's notice. And everyone has been especially generous with me! With the incredibly steep learning curve I've been running, tripping, and climbing up, I have been met with an amazing amount of guidance and understanding. Not only am I new to this cast, but I'm new to this city and to this world of theater. I haven't always known what to say, what the lingo means, or even where to stand, but watching and working with such beautiful humans and seasoned performers as Norbert Leo Butz, Kate Baldwin, and Bobby Steggert and being directed by the down-to-earth, five-time-Tony-Award-winning goddess that is Susan Stroman has taught me more than I could have dreamed. During an especially challenging rehearsal, I remember Norbert seeking me out to give me a pep-talk, reminding me that we still had time, and that the work I was putting in was more than enough and would eventually steer me in the right direction. Daily I am reminded by the entire cast and crew of the level of professionalism, skill, focus, and passion needed—and expected—of every Broadway performer. My newest dream is to make each and every person connected to "Big Fish" proud to have chosen me, proud to have worked with me, and proud to have embarked on this journey with me.
I could not, in all of my dreaming, have imagined a more perfect way to be welcomed onto my first Broadway stage. And as I sit backstage, ready to begin our first preview, I thank God that all of my dreams are coming true, and crossing my fingers that this particular dream won't end for quite some time.
Ciara Renee is thrilled to make her Broadway debut with this awesome cast and creative team! She graduated this year from Baldwin-Wallace. She participated in the Pre-Broadway workshop of "Bull Durham." Big thanks to Susan Stroman, Tara Rubin, and Mom!