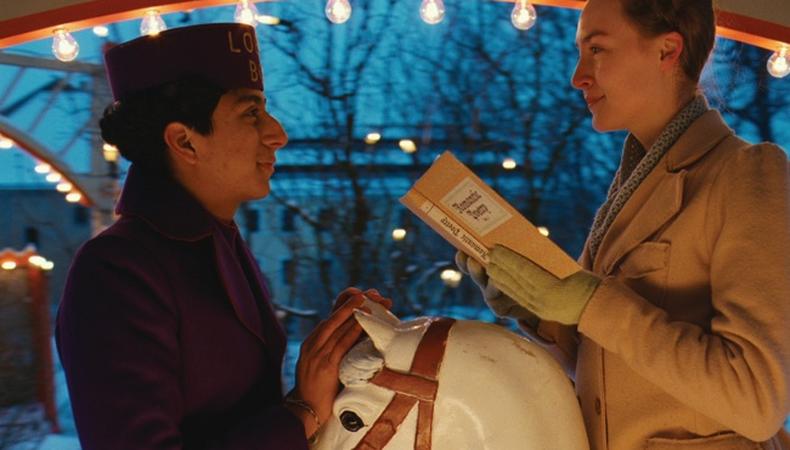 Wes Anderson's universe is peopled with some of the most delightfully bizarre characters in cinema. The auteur's most frequent guests—Bill Murray, Owen Wilson, Jason Schwartzman—pop up in the unlikeliest of roles, while newcomers are ushered in with their own brand of offbeat eccentricity. Folding such novices into the effervescent world of a film like "The Grand Budapest Hotel" is no easy task.
"I knew from past experience that this would be a really interesting process," says Douglas Aibel, who cast Anderson's previous films "The Royal Tenenbaums," "The Life Aquatic with Steve Zissou," and "Moonrise Kingdom." Aibel has become somewhat of a specialist in finding young unknowns to bring Anderson's singular scripts to life. When he was asked to cast "a fresh-faced, interesting Middle Eastern or Arabic teenager," Aibel knew traditional talent scouting was not going to cut it.
"We had just finished a long process of working on 'Moonrise Kingdom,' which also entailed a very detailed and exhaustive search for the lead children in that film," says Aibel. This time around, he had to find someone who not only possessed a certain je ne sai quoi, but could also hold his own against the mightiest of scene partners—Ralph Fiennes, whom Aibel rightly calls "one of the great contemporary actors of our time." His team's search extended to Egypt, Israel, France, England, and all over the United States, a weeks-long exercise in I'll-know-it-when-I-see-it casting.
The answer lay, of course, in a most improbable place: YouTube. "We were shaking the tree further," says Aibel, "and we came across this young man and his brother who, among other things, had a singing group at the time." Tony Revolori and his older brother captured the casting director's attention in their online videos with an "interesting combination of innocence and maturity." Sure enough, after he read for the part of lobby boy Zero Moustafa, Anderson knew Revolori was the perfect fit. It also helped that the young actor demonstrated great maturity during his callback in Paris, the first time he had left the U.S. in his life. "He displayed such professionalism and such grace in a very demanding shoot," says Aibel. "That kind of poise and serenity in what could be a stressful situation helped make the case for him."
The next step was casting the character again. During the hunt for Zero Moustafa, Aibel was also on the lookout for the lobby boy's older self. "Once we had a sense that it was Tony, the interesting thing was not just matching it up in terms of look but also in terms of character and being." Revered actor F. Murray Abraham became the natural choice. "Spiritually, it was a great match."
Ultimately, what Anderson and his trusted casting team gravitate toward is honesty. In a stylishly absurd film such as "The Grand Budapest Hotel," the performers must play with utterly straight faces. "That's something we're looking for in all his films," says Aibel. "Imaginative, creative, honest, open actors."
Inspired by this post? Check out our film audition listings!