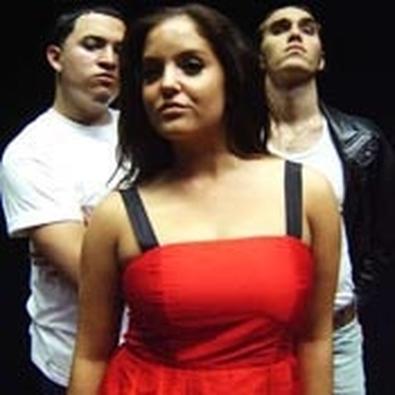 It takes chutzpah to mount a big, legendary show like West Side Story — as well-known for its spectacular choreography by Jerome Robbins as for its score by Leonard Bernstein and Stephen Sondheim — in a (relatively) small 99-Seat theatre. In the interest of full disclosure, I once knew the original cast recording by heart, but I've somehow missed seeing the show, either on stage or film. So I approached this production with eager anticipation, a tad of wary trepidation, and no basis for comparison with previous productions.
The score is, as always, electrifying. Director Ken Gray Scolari and the Musical Theatre of Los Angeles have mounted a respectable if not brilliant production. The huge ensemble of 30 singer-dancer-actors performs with verve and high energy, and the space limitations, though apparent, are not as distracting as they might have been. Clint Carter is a solid but unspectacular Tony, and the men do fine ensemble work in big numbers such as "Gee, Officer Krupke," but it's the women who stand out. Laura Darrell shines vocally as Maria, and a curvaceous Janet Krupin is a triple-threat as the feisty Anita.
However, the set is barely minimal — a couple of platforms against flimsy black draperies — though the costumes by Rosalie Alvarez are colorful enough to provide some compensation. And, on opening night at least, the sound balances were a bit off: Sometimes the orchestral underscoring was loud enough to qualify as overscoring, making it difficult to hear dialogue, and the sound was occasionally ear-piercingly shrill. But choreographer Arthur Ross makes the big numbers lively; apparently he has not attempted to re-create Robbins' original choreography. Greg Haake's musical direction is admirably precise, and he makes the large ensemble numbers rousing and moving. The program doesn't attribute the orchestrations, but as no musicians are cited, one must assume that they are largely computer-generated. But this is a welcome opportunity to see a show that isn't often done, in an unexpectedly intimate setting.
Presented by Musical Theatre of Los Angeles at the Hudson Backstage Theatre, 6539 Santa Monica Blvd., Hollywood. Nov. 21-Dec. 21. Fri.-Sat., 8 p.m.; Sun., 2 and 7 p.m. (323) 960-7712 or www.plays411.com/westsidestory.