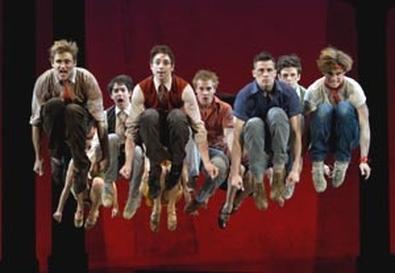 This watershed musical fuses elements of ballet and grand opera with gritty social commentary in an imaginative retelling of "Romeo and Juliet" as a romantic tragedy set amid New York's warring street gangs. Upon its 1957 premiere, it offered an eloquent departure from the predominant feel-good Broadway tuners from its era.
The show also gave early notice that its then-budding creative artists—librettist Arthur Laurents, composer Leonard Bernstein, lyricist Stephen Sondheim, and choreographer-director Jerome Robbins—had glittering futures. Laurents directed last year's Broadway revival, now repackaged as this national touring edition, under the helm of David Saint, Laurents' associate. Flashes of "West Side's" mythic grandeur and musical magnificence are evident here, yet the endeavor isn't an unqualified triumph.
Much of the hoopla surrounding this revival had to do with Laurents' incorporation of passages of Spanish in the dialogue and lyrics to underline the ethnic separation that drives the story's conflicts. While this ostensibly supports Laurents' stated aim to make this production more realistic, the gambit mostly comes across as distracting. It would be more satisfying to appreciate the artistry of Sondheim's lyrics as originally conceived.
Furthermore, the seething anger of the opposing Anglo Jets and Puerto Rican Sharks registers as peculiarly muted in the dance numbers (in which Robbins' original work is replicated by Joey McKneely) and in the characterizations, in which the gang members on both sides seem almost benign compared with thugs who prowl today's mean streets. There's insufficient bitterness in German Santiago's gang honcho Bernardo.
Kyle Harris croons Tony's soaring romantic ballads with conviction and skill, but his portrayal feels a bit bland. In fairness, this has always been somewhat of a cookie-cutter leading man role. Ali Ewoldt sings gorgeously as his sudden amour, the doomed heroine Maria. Playing spitfire Anita, this musical's choicest role, Michelle Aravena is reasonably effective, if not electrifying. Alexandra Frohlinger fares well as the spunky tomboy Anybodys, a wannabe gang-banger.
An outstanding sequence is the gorgeous interpretation of Maria and Tony's wistful "Somewhere" duet, opened up here as a radiant dream sequence, reminiscent of an Agnes de Mille ballet interlude from a Rodgers and Hammerstein classic. Beautifully lit by Howell Binkley, it provides a sweetly optimistic prelude to the inevitable sorrows to follow. The comic number "Gee, Office Krupke" is highly amusing in a fresh and energetic interpretation, as the Jets clown around gleefully, incorporating bawdy business that could never have made it to the stage in 1957.
The timelessly magnificent score sounds great under the musical supervision of Patrick Vaccariello, bringing out the richness of the dazzling original orchestrations by Bernstein, Sid Ramin, and Irwin Kostal. James Youmans' fluid scenic design is generally effective, and David C. Woolard's costumes are splendidly evocative.
Presented by Broadway/LA at the Pantages Theatre, 6233 Hollywood Blvd., L.A. Dec. 1–Jan. 2, 2011. Schedule through Dec. 19: Tue.–Fri., 8 p.m.; Sat., 2 and 8 p.m.; Sun., 1 and 6:30 p.m. Schedule from Dec. 21: Tue.–Wed., 8 p.m.; Thu., 2 and 8 p.m.; Fri., 2 p.m.; Sat., 8 p.m.; Sun., 1 and 6:30 p.m. (800) 982-2787. www.broadwayla.org.