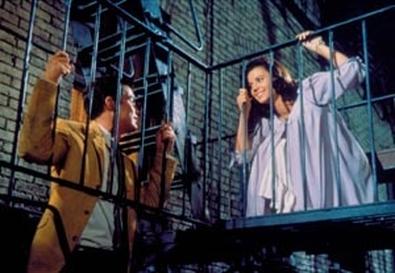 The film version of "
West Side Story
" marked its 50th anniversary in 2011. The beloved screen transfer of the legendary Broadway musical won 10 Oscars in 1961, including best picture and best director for Robert Wise and Jerome Robbins. AFI ranks it number 41 on its list of 100 greatest American movies, and it ranks number two on AFI's greatest movie musicals list. In 1997, the film was chosen for preservation in the National Film Registry for being deemed "culturally significant" by the U.S. Library of Congress.
In the film, dance is as important as Stephen Sondheim's lyrics and Leonard Bernstein's music. The dancers are front and center, acting— through Robbins' difficult, stylized, and emotional choreography—the story of a modern Romeo and Juliet torn apart by gang warfare. Not much is known, however, about the amazing actor-dancers who played the Jets and the Sharks. Some of them were not even listed in the film's credits.
Robert Banas and Tony Mordente, who played the Jet gang members Joyboy and Action, had the idea to put together a memoir of the "West Side" actor-dancers. "
Our Story—Jets & Sharks—Then and Now
" covers their auditions, their filming experience, and how the film influenced their lives and careers. The book was released in 2011 to mark the film's half-century celebration, as was a
three-disc Blu-ray DVD
.
Back Stage sat down with several of the "gang members," who shared their memories of working on a cinematic landmark.


On the Impact of Dance in "West Side Story" Nobuko Miyamoto, aka Joanne Miya (Francisca, a Shark girl):
I think the thing that distinguishes "West Side Story," to me, is the fact that the dancers were such an important part of the film. In every film that I had ever done, dancers were usually in the background. In this case, if it wasn't for the dance and the music, there wouldn't be a "West Side Story." The dance pushed the story. There was no dead time in a piece of music. The construction of it was a masterpiece. It came with hard work and the best in the business—Bernstein, Robbins, Sondheim, [Arthur] Laurents [author of the original book of the musical].
Gina Trikonis (Graziella, a Jet girl):
The dance moves the story along. What isn't being said in dialogue is said with our bodies. "Cool," to me, is an absolute masterful piece of choreography—the best piece of choreography I've ever seen on film—because it's drama that is expressed through the body, and that's what makes it so wonderful and intense. That was part of Jerry's genius. Also, he made everyone write a backstory about their character. We weren't just dancers; we were actors that happened to be extraordinary dancers. When we were on set, we weren't just background "fluff." We were characters, and we brought that backstory with us in every single step, every snap, everything. There isn't a wasted movement in that movement. Nothing. Everything counts as far as the choreography.
Carole D'Andrea (Velma, a Jet girl):
I was in the original Broadway production as well, and even then, to get us into character, Jerry would scream at us, "Stop dancing and walk!" We had to constantly learn how to walk. The guys especially. "What are you doing? You're dancing. Walk! You're a juvenile; you're not a dancer."
On Getting Cast Russ Tamblyn (Riff, the leader of the Jets):
I actually auditioned for the part of Tony. I never thought in a million years of playing Riff. I had the same agent as Robert Wise—Phil Gersh. So I felt like I had an in. Certainly doesn't help you get a part, because Bob and Jerry made up their own minds. But I would call Phil every night and say, "Phil, where is it now?" I finally get the call, and he says, "Well, boy, have I got some news for you. You didn't get the part of Tony." Damn. You know? "But they offered you the role of Riff." And I said, "Riff?!" But I didn't know if I could handle the dancing. Then he said, "Well, they switched the 'Cool' number and the 'Krupke' number. So you'd do 'Krupke.' " It worked out beautifully. Made total sense.
D'Andrea:
They tested me for Maria one day, right before they cast Natalie [Wood]. They gave me the lines, put a black wig on me, the whole thing. I still remember going over to the studio, and I did the whole scene, and that was it, that day. I never heard about it. They never said anything. I must have been atrocious.
Miyamoto:
As an Asian-American, I didn't really think I had a chance at all. I had worked for Jerome Robbins actually on the film "The King and I." I was in [the ballet number] "The Small House of Uncle Thomas." At the end of the shoot, he talked about a new musical he was working on called "East Side Story." Then it was called "Gangway," before he changed it to "West Side Story." I saw the show, and of course I was crying. It was just amazing. I auditioned to be a Broadway replacement, but I was contracted in "Flower Drum Song," so I couldn't do it. When I went to the film auditions in L.A. I thought, "This is a film. They're not going to use me in this, looking the way I do." But they did the screen test, and they put a lot of dark makeup on me, and somehow I passed for Puerto Rican. That was really a big thing for me. I was trained in ballet and all these [different styles], but I had never done anything where I played anything other than an Asian. For me, it was a big deal to be a Puerto Rican.
Maria Henley (Teresita, a Shark girl):
I think the only real Puerto Ricans were Yvonne Wilder, who played Consuelo, and Rita [Moreno]. I was Mexican-American; Susie Kaye, who played Rosalia, was Jewish; but it's just really kind of interesting how we all blended.
D'Andrea:
I think Jerry had an eye for the exact combination of acting ability—intensity—and I know from the Broadway auditions, he was looking for just a few who could do it all.
Henley:
I thought I was cast because of my technique until the first day I saw Jerry make an entrance at rehearsal. A light bulb went on. There was a purpose and reason for every single person that was there. It was all about your character.
On Jerome Robbins Getting Fired From the Film D'Andrea:
99 percent of the world does not know that Jerry was let go in the middle of filming "West Side Story." Every dancer I've ever met, they'll go, "What?"
Bert Michaels (Snowboy, a member of the Jets):
It was a Friday. Howard [Jeffrey, the dance assistant] didn't like the way we were doing our class, but the Jets had just got through doing "Cool," and the blisters were breaking on our knees every time we pliéd. The next thing we know, Jerry comes storming in and goes up to each one of us and says, "Just because you have a little film on you doesn't mean you can't be released. Anybody can be replaced." Then, Monday morning when we were rehearsing the drugstore sequence, at lunch Russ Tamblyn called us over and said, "Jerry was absolutely right; anybody can be replaced, and he was." We all were like, "What?!" I mean, you can't replace God. What are you talking about? That was an incredible moment. We were all standing there, and we were in shock. And I think we were in shock for the rest of the time.
D'Andrea:
It was his baby. How do you remove him? Still, to this day, it's like, what?
Tamblyn:
My understanding was that when they decided to have co-direction between Jerry and Bob Wise, in the contract it said if it didn't work out after three months or something like that, they had an option to let Jerry go. Jerry spent a lot of time [filming], going overboard on takes, and they were running out of money. And nobody knew how much the film was going to make, of course. We all got like a couple of weeks off; we thought we may not even complete the movie. I don't know all the problems, but that's basically what it was.
Trikonis:
"West Side Story" was Jerry's last film. It was absolutely devastating for him [to be fired]. You should hear [executive producer] Walter Mirisch talk about how he's the one that told him. Walter said Jerry would never talk to him again and was totally devastated and went back to ballet.
On the Intensity of Working for Robbins Trikonis:
When we were shooting "Cool," no matter what the shot or angle was, we had to do the whole dance from the beginning every single time. To get the emotional juices going. I think that's one of the reasons it's so powerful.
Henley:
I remember it took two and a half weeks to shoot "America." We finally got it in the can, and then two days later we heard he wanted to reshoot the whole thing again from another angle.
Robert Banas (Joyboy, a member of the Jets):
If Jerry didn't like the way you were doing ballet barre at a rehearsal, you were gone. It kind of put a little fear into you. You really had to work at doing your technique and make it worthy of him, or otherwise you were out.
Trikonis:
He always was kind of intimidating in that way. That's the way he kept us on our toes, because he made us feel like any one of us could be replaced in an instant if he found somebody that he liked better.
Tamblyn:
Remember when we did that dance number, dancing down the street in the summer? It's like 110 degrees, and we did it over and over, dancing down the whole block, snapping and leaping and jumping until Bob Wise finally said, "Okay, that was good." Then Jerry said, "Yeah, I'd like to do one more though. But I would like all you Jets to do it on the other foot." Remember that, Bert? On the other foot.
Michaels:
I think that worked, because I don't know if it was conscious on Jerry's part, but just the absolute terror. I don't know what the rest of you felt, but just the absolute numb terror that we would do the other foot—that's what he got onscreen, and that's what he wanted.
Banas:
It was a little trying and hard, but I had worked with Jerry twice before, and I knew what his demands were. But it opened doors for a lot of us; it did for me. I'm sure all of us benefited by it.
On Being in the Original Broadway Show D'Andrea:
I will never forget opening night. Ten in the morning, Jerry calls a meeting with all the dancers and everybody and says, "Okay, this is what's gonna happen: The critics are either going to kill us tonight because I'm trying something that they're going to say should have been made uptown at New York City Ballet, and that it does not belong on Broadway originally, or we're going to make history tonight." And then he went, "I picked each one of you." And it was like, you better f--king show up. I will never forget that. I get chills thinking about that. We knew what was at stake.
Reactions From Fellow Dancers and the Public Trikonis:
When dancers I meet find out I was Graziella, I've had several young dancers come up and say to me, "I became a dancer because of you, because I saw you in 'West Side Story.' " That's cool. I can't tell you how many young people have been inspired by this movie.
Henley:
When we did the 40th anniversary up at Radio City, there must have been five thousand people in the audience. There were people there who had the original Broadway program! I love hearing how the film changed people's lives, because the Broadway show changed my life. I'd never seen anything like it, and I said, "That's what I want to do with my life." So to do the movie and people are touched by the movie, it's awesome. I never thought this movie would be as great as it is.
Michaels:
My son recently said to me, "What an amazing thing that you guys did and how wonderful. It's like time stood still. You're the same now 50 years later as you were back then." It is a lesson to be learned. And I'm so grateful.