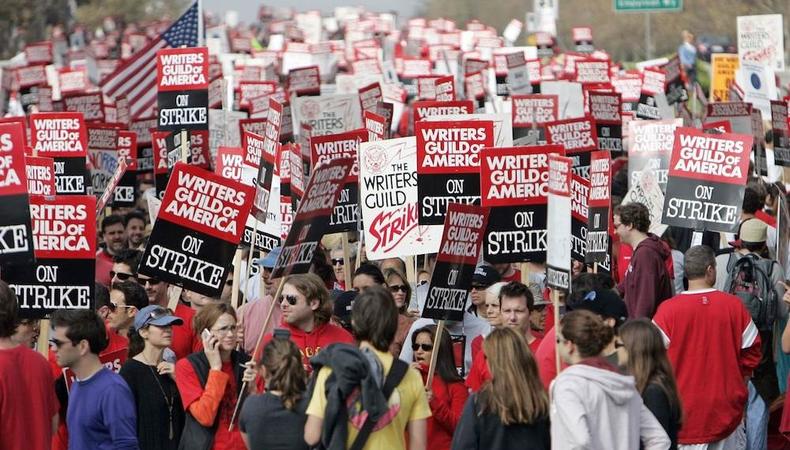 Hours after the contract expired on May 2, the Writers Guild of America reached a tentative deal with the Alliance of Motion Picture and Television Producers, averting a strike.
The new three-year film and television contract agreement came on the heels of the WGA voting by an overwhelming majority to authorize a strike the week prior.
The guild's negotiating committee said in a released statement that after several days' worth of negotiating sessions, including a full Sunday and Monday just hours prior to the late-night call, "gains in minimums across the board—as well as contribution increases to our Health Plan that should ensure its solvency for years to come"—have been made.
"We also made unprecedented gains on the issue of short seasons in television, winning a definition (which has never before existed in our MBA) of 2.4 weeks of work for each episodic fee," the statement continued. "Any work beyond that span will now require additional payment for hundreds of writer-producers."
Negotiations also led to several firsts for the guild, including job protections on parental leave and residuals for comedy-variety writers in pay TV. That's in addition to a 15 percent increase in pay TV residuals overall, and "roughly $15 million in increases in High-Budget SVOD residuals."
The guild went on to admit that these meetings with the AMPTP didn't result in everything it wanted or deserved, but that it is well on its way to reaching its final goal. "Because we had the near-unanimous backing of you and your fellow writers, we were able to achieve a deal that will net this Guild's members $130 million more, over the life of the contract, than the pattern we were expected to accept," the statement said.
This news comes just days after official word from AMPTP that it is "committed to reaching a deal at the bargaining table that keeps the industry working," citing the 2007 Writers Strike as a major blow to all parties involved. "Writers lost more than $287 million in compensation that was never recovered, deals were cancelled, and many writers took out strike loans to make ends meet."
To that end, many in the industry both behind and in front of the camera view this latest agreement as a relief. The ramifications of the last writers strike in 2007 were felt by actors, writers, and countless others. Several high-profile series at the time, for instance, saw their seasons abbreviated as a result of striking writers, including "30 Rock," "Lost," "The Office," and "Gossip Girl." Other shows were canceled entirely in midst of the strike, and though many were at risk of cancellation prior, none were helped by financial losses incurred by networks due to the strike.
The '07 strike, which revolved mainly around new media and streaming, ultimately ended in a victory for the WGA. Writers would receive a higher percentage of digital distribution grosses.
The May 2 deal will now go to the WGA West's board and WGA East's council for approval before it is sent to the guild's members for ratification. A meeting with the negotiating committee is also scheduled to be held May 4 at WGA headquarters to review the agreement.
During the May 4 meeting, the new contract was approved in Los Angeles by the WGA West, as well as in New York by the council of the WGA East. It will go now to the guild's members for its final ratification.
This story was updated on May 5, 2017. We will continue to update this story as events unfold.
Check out Backstage's TV audition listings!