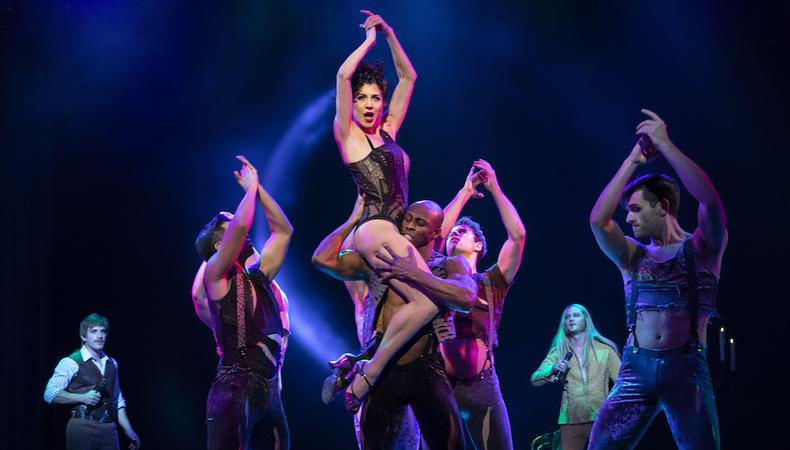 This article originally appeared on DanceMagazine.com.
Dance on Broadway is usually more about ensemble work than stealing the singular spotlight. That's true for most of "The Cher Show," with Christopher Gattelli's choreography supporting the titular diva. But for one second-act number, dance takes center stage.
Enter Ashley Blair Fitzgerald, who steps out of the ensemble to captivate with a sensual solo to the song "Dark Lady." In a show stuffed with catchy pop songs and dizzying costume changes, it's a scene unlike any other: The lead actors drop back, and Fitzgerald becomes the sole focus as she's partnered by a bevy of men and spends much of the number in the air. On the night I attended, her electric stage presence resulted in the longest applause of the evening, aside from the curtain call. We spoke with Fitzgerald about being in "The Cher Show" and commanding the stage with this literal showstopper.
How She Booked the Show
"I went to the invited dance call, and over the course of four months was called back five times to dance, read, and sing. Three weeks before the lab started, I got the call!"
On Working with Gattelli
"Chris encourages an ego-free, collaborative experience. If something didn't work, he never made me feel inferior. He would just say, 'Okay, how can we make it work for you and your body?' Because he worked like this, I gave him my complete trust."
About That Solo
"Being given the opportunity to do what you love, on a Broadway stage, is a monumental experience. It's taught me the value in being part of a creation. Performing something that you feel a part of is really a dream come true."
Dance Magazine is the must-read magazine for professional and aspiring dancers. Subscribe today!
On Choreography That Travels Through Time
"The different dance styles are what makes this show fun. One moment you're doing a 60s twist, the next you're a Vegas showgirl. We did our research to make sure we were executing the intention of the step correctly, which has allowed our bodies to live injury-free within the steps."
Her Pre-Show Ritual
"Sixty minutes before curtain, I go down to the concession area and give myself a full ballet barre. I love to listen to Adele, Fleetwood Mac, or Etta James. The music really helps clear my mind. Then I do about 10 to 15 minutes of spot training for injuries and maintenance, which includes lots of bridges, stretching, and crunches. At intermission, I repeat the spot training. Just before I take the stage for 'Dark Lady,' I run through the dance, stretch my legs, and say a prayer for the dance to go well and that no one gets hurt."
Onstage Shenanigans
"In the second act we have a reporter and paparazzi scene where the ensemble is used as a silhouette. Since the opening of the show, myself and two other cast members have made up a completely fake news company, with fake names and fake stories. We're currently working on a story about a 'duckefant.' The first ever duck-elephant hybrid animal. It's so silly but it keeps things fresh and fun."
FREE Dance content every day. Click here to sign up!
The Most Challenging Part of the Show
"We have an action-packed finale with many different dance styles, including something called 'theater street jazz.'; Grasping this style has been the biggest challenge for me. Every performance I try to execute it better than the last. However, I sometimes feel I come up short. But I will never stop trying!"
Fitzgerald's Advice for Broadway Hopefuls
Train."There are no shortcuts to technique. It will help you with injury prevention, prolong your career, and allow you to dance any type of style."

Step outside your comfort zone. "Take an acting class, a voice class. Dancing is acting with your body. This will help you tell the story."

Take risks, but stay grounded. "Trust your choreographers and coaches. It takes courage, but if you do the work, magic can happen."